Boiler Service Year-Round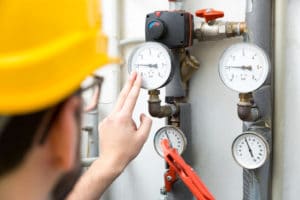 Boiler service experts from Alliance Comfort Systems can help you monitor your heating systems year-round. Our company specializes in all aspects of HVAC and delivers decades of experience in providing our commercial and industrial clients with the best service for heating cooling and air systems. You should trust that your boiler will be functioning above your expectations however, service is often a necessary requirement to ensure the best outcome for machines working in tough environments. Commercial and industrial HVAC demands are unique, allow us to handle your system needs with care.
Boilers are generally expected to provide proper heating during the coldest months. Boilers are also used throughout the year to provide heating in large industrial centers, manufacturing plants and commercial buildings. Although boilers perform their job rather well, service is needed for the sake of upkeep. Frequent use and heavy energy demands will greatly impact how often equipment should be serviced. Boiler service not only helps you maintain heating equipment it also helps you to save money on energy expenses. Having the ability to detect potential issues leads to better performance in the long term because problems can be addressed sooner.
Calls for Boiler Service
Technicians at Alliance Comfort Systems are on-call to accept service calls for boilers. While maintenance reduces the need for costly repairs, boiler service also gives insight into the status of your equipment in terms of performance. Boiler parts may also become worn out over time. Due to the fact that components may erode, careful observation is necessary to prevent extensive damage. HVAC technicians at Alliance Comfort Systems are able to assess your machine's components to determine if replacement is necessary.
One of the first indicators that boiler service is necessary is lack of heat. Equipment that is not heating well may need to be inspected for broken parts. Should you require parts replacement, Alliance Comfort Systems can help. We not only provide service, but we also supply parts which are helpful in the process of getting a piece of equipment or network of machines back online.
Contact Alliance Comfort Systems to learn more about how we can service your boiler.