Convenient Chiller Rentals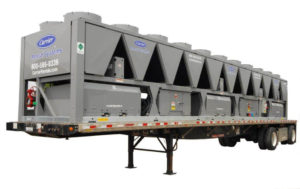 Portable chiller rentals from Alliance Comfort Systems are helpful when applying them to temporary cooling projects. Rental equipment is considered an economical solution that is equally as flexible. From construction sites to large outdoor events, deploying a chiller can offer powerful climate control in the most extreme conditions. Allow Alliance Comfort Systems to be your top supplier for HVAC equipment to include chiller rentals.
There are a variety of chiller rentals available on the market. The machines are manufactured by the leading brands in the HVAC industry. Chillers vary in size, build and capacity and therefore it is recommended that you consult with a technician regarding specifications, delivery and installation. Dealing with chillers can be complex however, Alliance Comfort Systems delivers expertise to our clients in order to help ease the process of selecting a unit. Your requirements and specific application will also help to drive your choices in determining a system that will be ideally suited.
Chiller Rentals Service
We deal with a great network manufacturers and distributors so selection is not an issue when it comes to choosing chiller rentals. Regardless of what brand you prefer, you can be assured that your equipment will be backed by quality. Reputable service is key when it comes to chillers simply because of the nature of the machines and your investment.
Locating a chiller that meets your needs may also require some service package. Service is necessary to get the most out of your equipment. Excellent performance is paramount. Dealing with a supplier that can offer service such as Alliance Comfort Systems will bring you confidence in knowing that help is simply a phone call away. With on-call service, you can be certain that any issues will be addressed with an active response. Chillers are indeed reliable but even units that are deployed for temporary projects may need upkeep. Contact us to learn more about our rental units and service options.