Chiller Repair Technicians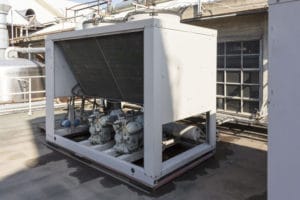 Chillers are revered for their efficient energy use and ability to provide cooling effects for a number of areas. Businesses of all sizes rely on chillers to perform well with very little interruption. While you can certainly expect that your unit will do a great job in providing cooling for spaces, equipment and more, it is possible that chiller repair will become necessary at one point or another due to frequent use and standard wear. Although you can count on your chiller without reserve, it is good consult with an HVAC technician if you suspect that your unit is in need of repair.
Alliance Comfort Systems specializes in chiller repair and all additional aspect of HVAC. We recognize the critical role that chillers play in commercial establishments. As a result, we offer a vast selection of chiller repair services as well as parts support. Our technicians are capable of working with equipment that ranges in capacity. We handle jobs both large and small for businesses in all sectors. Chillers are highly complex machines that require a high level of expertise in HVAC. With Alliance Comfort Systems you can rest assured that you will receive expert service with care.
Chiller Repair and Commercial Operations
Due to the fact that chillers are complex machines and relied upon heavily for operations, comfort and safety, they should be serviced at regular intervals to meet the demands of the environment and seasonal impacts. There are numerous benefits to consistent upkeep for your machine. Chiller repair that is supported by service significantly reduces operational costs. Moreover, maintenance encourages the efficient use of energy. Taking steps to maintain the efficiency and operation of your equipment limits your carbon footprint which delivers long-lasting benefits for the environment as a whole.
If your commercial chiller is in need of repair, contact Alliance Comfort Systems. Our technicians are available 24/7 throughout the year to handle your calls. Contact us to learn more about service and support options for your cooling systems.