Chiller Repair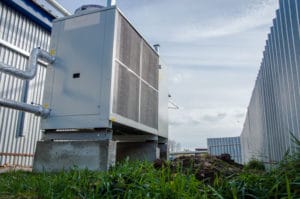 Chiller repair is available through Alliance Comfort Systems for commercial units. The cooling systems are reliable however, it is not uncommon for the machines to need repair. Chillers are heavy duty machines and they are built to last by the world's best manufacturers. Frequent use however, may cause some parts to break and repair is necessary. Worn components may impact how well the equipment is able to perform. Commercial facilities that rely on chillers cannot manage for an extended period of time without the machines in operation. While it is very possible to set up temporary units, time spent offline is still costly for businesses.
Save time and expense by working with Alliance Comfort System on chiller repair issues. Our technicians are on-call 24/7 to manage service calls. We are able to respond in a timely manner to schedule a service appointment. Diagnosing any performance issues with a unit is necessary before chiller repair is scheduled. Possible repair issues with a unit being used in a commercial facility should only be handled by a technician with specialized training. Chillers have complicated designs; dealing with them can be complex and dangerous if experience is lacking. Technicians at Alliance Comfort Systems have experience in the field and a strong focus on chiller repair for both commercial and Industrial HVAC equipment.
Chiller Repair Parts
If you suspect that your chiller may have a performance issue or perhaps a broken part, contact Alliance Comfort Systems and place a service call without delay. Minor problems can turn into major fixes and costly repairs. Maintenance plans are on way to reduce serious performance problems with your chiller. Chillers need constant monitoring to ensure that all of the components are working properly. Moreover, the machines consist of fluids that may need to be filled to keep motors operational. Chillers are a great investment for businesses in need of powerful climate control, allow Alliance Comfort Systems to help you manage the care of your units; contact us.