Chiller Repair Services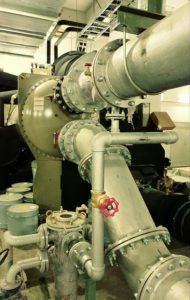 Alliance Comfort Systems is able to handle industrial chiller repair with unparalleled expertise. Our service technicians specialize in working with heating and cooling systems in buildings both large and small. We realize how important chiller systems are for facilities and work with our clients to keep them running most efficiently. Troubleshooting HVAC issues can be a headache. Allow Alliance Comfort Systems to deliver comfort with service you can trust.
Chiller repair is often necessary because over the life of a unit, parts will end up becoming worn. Components that show signs of wear should be fixed promptly because they can lead to serious problems. Parts that cannot be repaired will need to be replaced. Replacing components however, is a cost-effective way to manage the performance of an HVAC unit while preserving its performance. Companies rely on chillers to provide adequate cooling with few interruptions. 
When a chiller goes down in a facility, the level of comfort goes down and oftentimes productivity declines as well. Cooling equipment may also be necessary to keep other devices cool to reduce overheating. Protecting property is equally as important to facilities that rely on chillers for daily operation. Excessive damage can be costly to businesses trying to maintain a budget. 
Chiller Repair Support 
Alliance Comfort Systems can provide service support to include chiller repair for permanent units and rental equipment. Maintenance requirements may also call for repairs as part of routine service. Chillers must be monitored frequently to ensure that they are making the best use of energy. Running the equipment can be costly for facilities and therefore operators must stay on top of performance issues that may affect energy costs. 
Chillers will benefit from preventative maintenance. The systems include a series of materials and fluids that need to be checked periodically for volume and temperature. Built-in settings help to make the job of monitoring units easier however, technicians have the proper tools needed to perform service on equipment.