Chiller Repair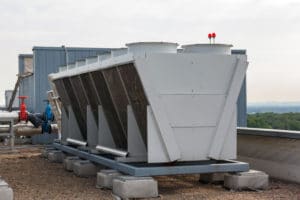 Alliance Comfort Systems supports commercial and industrial establishments with chiller repair. Chillers are an integral part of operations in which cooling is necessary. End-users depend on the equipment to provide cool air for spaces. Moreover, chillers are used in commercial applications to maintain temperature for products and equipment. A broken chiller is costly for facilities. Chiller repairs conducted by an HVAC expert are necessary to keep the units running efficiently.
End-users prefer to use chillers to process cooling because they are efficient. Chillers provide excellent climate control. The equipment can be customized to meet very specific demands of a business. Chillers however, undergo significant stress because of their size. The machines handle a sizable amount of energy. A broken component on a unit may cause it to work overtime to complete its tasks. 
Alliance Comfort Systems is capable of handling chiller repair for large capacity units. Our service technicians have decades of field experience. Service technicians are on-call 24-hours a day and 7-days a week to accommodate requests. We understand that there may be HVAC needs which extend beyond regular business hours. 
Common Chiller Repair Problems
If your chiller shows signs of wear, a service technician can inspect your unit to determine the cause of any issues. Chillers that are not working properly may not cool spaces, products and equipment well. The machine may also fail to power on. In addition to issues with power and cooling, a chiller may not process liquids correctly. The common problems linked to a chiller can be investigated by a field expert. 
Diagnosing chiller repair problems requires care. Service technicians are equipped with the proper tools needed to render service safely. Chillers manage high volts of electricity as well as intricate wiring. Never troubleshoot repairs without the help of an experienced service technician.