Chiller Rental Solutions for Industrial Use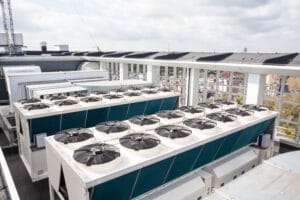 Choosing the correct chiller rental solutions is less complex with a product specialist. Our service professionals bring field knowledge to each of the customers of ours. We manage service tasks for chillers of all the sizes manufactured by all the big brands in HVAC. Our specialists are really confident in dealing with the complexities of heating and cooling in commercial settings. Actually, we're subject matter experts in not only chiller rental, but all aspects of heating and cooling. 
You are able to pick from a range of water-cooled and air-cooled chillers which might be great for short term projects including chiller rental solutions. If you have  a future or current demand for a chiller, call us. Our company specializes in commercial and industrial chiller rental equipment for all applications.
Clients can save time by dealing with Alliance Comfort Systems to determine the ideal chiller rental for a specific application. Navigating the internet for equipment may be time intensive. In addition, it's not always feasible to purchase from a maker directly. Should you pick Alliance Comfort  Solutions, we are able to assist with complicated configurations and your gear specifications to locate a suitable device.
Service Needs for Chiller Rentals
Maintenance needs are essential when shopping around for the most effective chiller unit. In some instances a chiller might be used for a prolonged period of time therefore requiring much more upkeep. The simple fact of the issue is that chillers, regardless of how long they're in use, need regular attention. Cooling systems make use of high energy voltage, high pressure and dangerous liquids.
Our service specialists are on call to respond daily. Furthermore, since access brand named parts, we are able to service rental units if necessary with quality components. Moreover, achieving effective performance is going to save your facility on electricity expenses.
The benefits of rental air systems are numerous. HVAC units deployed on a temporary basis are cost-effective, energy efficient, and easy to install. Moreover, rental air systems are portable. The units are delivered on trailers and can be used on job sites, indoors and outdoors depending on the situation. We specialize in water-cooled and air-cooled chiller options. Regardless of how large your specific job is, it is likely that we can find a unit that is most suitable. Trust Alliance Comfort Systems as we have field experience. Commercial and Industrial HVAC units are our speciality. 
Maintenance on Chiller Units
As an alternative, we offer preventative maintenance programs for rental systems.
Whether you want a device for a short-term work site or perhaps a long term supplement, our experts are able to work with you to find a budget friendly method that works for your project. Choose Alliance Comfort Systems for the very best selection in HVAC. Your facility deserves nothing but the best gear around to finalize your mission. 
Contact us to find out how we can fill your requirement for chiller rentals and service.