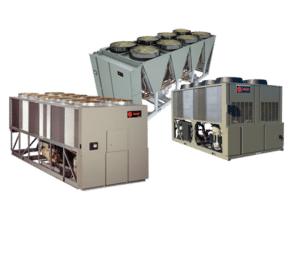 Chiller Repair Solutions
If you are in need of chiller repair at your commercial or industrial establishment, contact Alliance Comfort Systems. We are experts in HVAC and chillers are one of many specialties. We can help you troubleshoot chiller problems and offer workable solutions to help you get your system back up and online in a timely manner.
Whether your chiller repair consists of replacement parts, retrofitting or urgent fixes, Alliance Comfort Systems is available to provide quality service and a wide parts selection. We understand how important a functioning chiller is to your operation. Through our experienced technicians and combined decades in the field, we can deliver desired results.
Although you may have every measure in place to keep your systems running smoothly, you cannot always anticipate a chiller repair need. Chillers are reliable and used in a number of industries. Regardless, they are complex and require not only an experienced technician but frequent monitoring to ensure the best level of performance.
If you suspect that your chiller is not working properly, contact a service technician at Alliance Comfort Systems as quickly as possible. While your system may be perfectly fine, an investment such as a chiller or multiple chillers should never be left to chance. Repair may save you time and money.
Chiller Repair Support
As an experienced service provider with longevity, we are comfortable handling all of the top brands that you may have heard of. Through our broad network, we are also capable of sourcing exact parts to integrate within your existing equipment if necessary for repairs. Parts applications can help to save you on cost over replacement of your equipment as whole. You deserve to get the most of your equipment and should expect it to last for a very long time.
Preventing performance issues is always recommended and can be done through a series of scheduled service options. Having your equipment serviced will help you stay ahead of potential issues before they worsen. Regular service reduces downtimes and ensures that your equipment is working efficiently.