Selected points for this article
hide
Source for Chiller Rental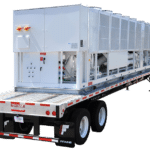 When you are in the market for a chiller rental, trust Alliance Comfort Systems as your source to locate cooling equipment. It does not matter whether you need a chiller for a commercial or industrial facility. We can help you find a suitable unit or multiple units that suit your requirements. Avoid the difficulties involved with searching the Internet for a supplier and contact Alliance Comfort Systems.
Your search for a chiller rental solution will likely reveal that it can be a little bit more complicated than expected. In fact, chillers are complex machines, so there are several different factors that you should keep in mind when shopping around for the best option. While your application will be a huge determining factor in what equipment will deliver ideal results, you should also consider your budget and the length of time you will employ.
Because there are many different manufacturing brands on the market, you should always keep your budget in mind when shopping for rental equipment. Ensure that all of the necessary features are included and avoid adding elements that you do not need to maintain your costs. Be aware of any additional requirements that may be necessary to complete the installation of your unit.
Chiller Rental Care
An additional consideration for a chiller rental is service and maintenance. It may seem easy to have a machine delivered and installed, but even rental equipment requires upkeep. A technician with Alliance Comfort Systems can help you keep your systems updated, which is why you can count on our company's expertise.
Rental equipment is still an investment and requires proper care to yield the best results. Your equipment should run efficiently with few to no interruptions while making the best use of energy and helping you maintain climate control at your operation with ease. Circumventing adequate care for your machines is not recommended and may lead to performance issues in the long run.
Where can I get the best Chiller Rentals?
Alliance Comfort System believes that it is highly significant to get efficient rental HVAC equipment to suit all our customers' and clients' needs; one may need an HVAC rental for power generation, supplemental temperature, emergencies, you name it. Bearing that in mind, you can always rent a chiller from Alliance Comfort Systems to help you in the brutal rental environment. You can combine the chiller rental device with the fan coils and air handlers to enjoy maximum effectiveness and efficiency.
The Best chiller rental services and use of it
The chiller rental services can be provided for several places, including workspaces, offices, events, storage buildings, airports, hospitals, ice rinks, chemical plants, learning institutions, and many others. However, chiller rental services are not limited to those places; they can also be provided in standby services, testing requirements, turn-around projects, scheduled outages,  refinery and chemical production projects, cold warehousing, emergency response, supplemental cooling, and many more.
A chiller rental device is tailored to withstand all types of environments; for instance, it can work effectively even in extremely low temperatures. Additionally, before they are rented to a customer or client, we ensure that our equipment is professionally and practically tested; this policy and process guarantees that we offer you nothing but the best in the market. Alliance Comfort Systems does not offer mediocre products or services; we ensure that we provide you with long-lasting and effective equipment which is of high quality and will fully meet all your cooling needs.

Furthermore, the chiller cooling process includes heat absorption from the process water, and the heat is consequently released into the atmosphere. Air-cooled chillers are among the most popular applied in operations where there is limited space for the unit, and the quantity of the discharged heat load is not a matter of concern. Besides, other features can be added to the chiller; for instance, some chillers can be skid-installed, explosion-proof, and contain high voltages. For a small-scale business, the cost of installing and applying permanent cooling equipment for the business could be a hindrance.
Additionally, the rental chiller service comes with many advantages, including that the rental chiller will offer you the flexibility to switch the chiller's size based on your cooling demands. You can also test the chiller rental unit's operation before deciding to purchase your chiller. Besides, chiller rentals are completely covered for any damage repair and maintenance;
this will cut costs for you, and you can save that money that would have been required for repair. Our chiller rental department is highly dedicated to handling all our customers' and clients' chiller service needs, chiller rentals, installation, and maintenance. With nearly a century of combined field experience and a team of experts, Alliance Comfort Systems is prepared to give you the best chiller rental services for all your cooling needs.
You can purchase with total confidence from us and entirely rely on our highly trained and experienced chiller rental gurus, who have extensive knowledge on any chiller-related issue you might face. Please do not hesitate to get the best quality replacement components for heat pumps, furnaces, and air-conditioning units; we ensure to stock numerous best quality rental parts that industrial and commercial customers popularly demand.
Address
7200 Distribution Dr, Louisville, KY 40258
Phone: (502) 384-8500 Email:
[email protected]
Opening Hours
| | |
| --- | --- |
| Monday | 9:00 a.m. – 5:00 p.m. |
| Tuesday | 9:00 a.m. – 5:00 p.m. |
| Wednesday | 9:00 a.m. – 5:00 p.m. |
| Thursday | 9:00 a.m. – 5:00 p.m. |
| Friday | 9:00 a.m. – 5:00 p.m. |
| Saturday | Closed |
| Sunday | Closed |