Commercial & Industrial Refrigeration Service
Selected points for this article
hide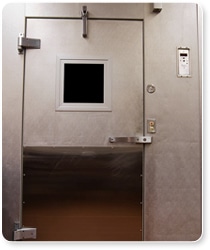 The Alliance Comfort Systems' highly trained refrigeration technicians are available 24/7 every day to meet your refrigeration service needs. Our certified technicians' team provides maintenance, repair, and installation of a wide range of commercial and industrial refrigerate systems.
We understand that commercial refrigerate systems and freezers are used throughout various industries and with many perishable products. With that in mind, our goal is to respond quickly and efficiently to your refrigerate service needs to help avoid downtime and loss of product, saving you time and money.
Our technicians are well trained to diagnose and repair any commercial or industrial refrigerate product to keep your system operating efficiently. Using the latest technology and testing equipment, our maintenance programs keep your refrigerate equipment operating at maximum efficiency.
Commercial Refrigeration Applications:
Ice Makers
Walk-in Coolers
Walk-in Freezers
Ice Skating Rinks
Ice Merchandisers
Merchandise Boxes
Low-Temperature Chillers
Thermal Storage Systems
Display Cases for Food Products
Display Cases for Floral Products
Industrial Refrigeration Applications:
Distilleries
Egg Plants
Meat Packing
Poultry Plants
Freezer Plants
Blast Freezers
Spiral Freezers
Chemical Plants
Distribution Centers
Plastics Manufacturing
Food Processing Plants
Ice Manufacturing Plants
Thermal Storage Systems
Refrigerant Manufacturing
Cold Storage Warehouses
Gas Compression Facilities
Liquid Chilling Applications
Process Temperature Control
Ambient Temperature Control
Air Inlet Cooling for Gas Turbines
For more information on how Alliance Comfort Systems can meet your Refrigeration Service needs, call  (502) 384-8500 or email [email protected].
Address
7200 Distribution Dr, Louisville, KY 40258
Phone: (502) 384-8500 Email:
[email protected]
Opening Hours
| | |
| --- | --- |
| Monday | 9:00 a.m. – 5:00 p.m. |
| Tuesday | 9:00 a.m. – 5:00 p.m. |
| Wednesday | 9:00 a.m. – 5:00 p.m. |
| Thursday | 9:00 a.m. – 5:00 p.m. |
| Friday | 9:00 a.m. – 5:00 p.m. |
| Saturday | Closed |
| Sunday | Closed |