Air Conditioning Rentals – Commercial & Industrial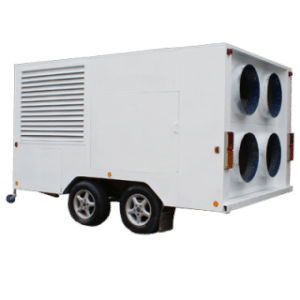 Facilities need temperature control year-round to respond to changing conditions. Operational requirements may call for temporary cooling systems to satisfy climate control needs for short-term projects. As an Air Conditioning Rentals leader, Alliance Comfort Systems, based in Louisville, KY, specializes in commercial projects and industrial requirements. We provide quality air-conditioning rental systems from the top manufacturers in heating and cooling.
Why Air Conditioning Rentals?
Sourcing Air Conditioning Rentals in Louisville, Kentucky, for local businesses is expected. Facilities of all sizes may need cooling solutions on a rental basis. Rental systems are ideal for emergencies, construction projects, renovations, planned outages, and events. While nearly all facilities have some temperature control system, supplementary cooling needs to arise for several reasons. Renting a system provides an effective solution that is instrumental in maintaining an operation.
Air Conditioning Rentals through Alliance Comfort Systems are used for facilities across of broad spectrum of applications. In some cases, the equipment is used to maintain the temperature in secure spaces such as server rooms. Equipment in such areas must be held at a specific temperature to reduce the likelihood of damage. Additionally, they may be found in retail establishments such as stores, malls, and other commercial places of business.
Because commercial and industrial climate control systems demand a large amount of energy, they may need to be taken down from time to time for repair. They are helpful during planned shutdowns as they continue to provide temperature control for occupants and contribute to repairing jobs and maintenance. Rental systems can be suited for nearly any budget. The units can be deployed with ease through a professional service technician. Contact us to find out how we can help with sourcing your rental system.
Address
7200 Distribution Dr, Louisville, KY 40258
Phone: (502) 384-8500 Email:
[email protected]
Opening Hours
| | |
| --- | --- |
| Monday | 9:00 a.m. – 5:00 p.m. |
| Tuesday | 9:00 a.m. – 5:00 p.m. |
| Wednesday | 9:00 a.m. – 5:00 p.m. |
| Thursday | 9:00 a.m. – 5:00 p.m. |
| Friday | 9:00 a.m. – 5:00 p.m. |
| Saturday | Closed |
| Sunday | Closed |