Expert Plumbing Repair, Maintenance, and Installation
Selected points for this article
hide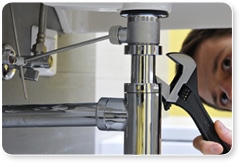 Alliance Comfort Systems has the knowledge, experience, and resources to provide superior plumbing service to businesses and industrial facilities 24/7. We offer a comprehensive range of commercial and industrial plumb services and preventative maintenance programs tailored to suit each customer's needs. With years of experience, our highly trained plumbing professionals quickly and efficiently get the job to reduce downtime and save you money.
Commercial and Industrial Plumbing Service Capabilities Include:
Leak Detection
Utilizing a state of the art electro-acoustical water leak detector, we can pinpoint underground or hidden water leaks and perform repairs.
Pipe Locating
Utilizing a multi-frequency pipe location system designed to locate underground piping accurately, we can save you time and money by locating piping to perform repairs.
Camera Inspections
Our team inspects the piping from an interior view utilizing a state of the art pipe inspection camera and TV monitor. After locating broken or troubled spots, our technicians will make all the necessary repairs.
High-Pressure Water Jetting
Our crew utilizes a high-pressure water jet with 3000 PSI of water pressure to clear grease, sludge, and sediment from drainage systems.
Backflow Prevention Installation and Testing
Your local water supplier may now require annual testing and certified installation.
Preventative Maintenance Programs
We design maintenance solutions customized to your specific facility needs.
Plumbing Service Benefits
Alliance Comfort Systems takes pride in our excellent quality of service. No matter the plumbing system's size or complexity, we challenge ourselves to exceed our customer's expectations. We understand the needs of commercial and industrial facility owners and operators and work diligently every day to provide them with these benefits:
Increased Productivity
Safety and Security of Facility Plumb ing Systems
Water Conservation
Efficient Hot Water Heating Systems
Reduced Operating Costs
Lowered Energy Consumption
Less downtime
Longer Life of Plumbing Systems
Consistent Facility Comfort
Better Water Quality
Since the company was founded, we have served thousands of happy customers. Our plumbers are licensed, clean-cut, and drug-free professionals.
Whether it's a water heater problem, a leaky faucet, leaking pipes, a clogged toilet, drain, or sewer, we are the experts that can take care of your needs!
We provide same-day professional service. We stand by our work and do what it takes to resolve your plumbing problem.
For more information on how Alliance Comfort Systems can meet your Plumbing Service needs, call us at (502) 384-8500 or email [email protected].
Address
7200 Distribution Dr, Louisville, KY 40258
Phone: (502) 384-8500 Email:
[email protected]
Opening Hours
| | |
| --- | --- |
| Monday | 9:00 a.m. – 5:00 p.m. |
| Tuesday | 9:00 a.m. – 5:00 p.m. |
| Wednesday | 9:00 a.m. – 5:00 p.m. |
| Thursday | 9:00 a.m. – 5:00 p.m. |
| Friday | 9:00 a.m. – 5:00 p.m. |
| Saturday | Closed |
| Sunday | Closed |