Chiller Repair Solutions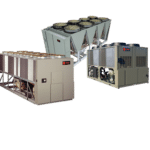 If you need chiller repair at your commercial or industrial establishment, contact Alliance Comfort Systems. We are experts in HVAC, and chillers are one of many specialties. We can help you troubleshoot chiller problems and offer workable solutions to help you get your system back up and online promptly.
Alliance Comfort Systems provides quality service and a wide parts selection whether your chiller repair consists of replacement parts, retrofitting, or urgent fixes. We understand how important a functioning chiller is to your operation. Through our experienced technicians and combined decades in the field, we can deliver the desired results.
Although you may have every measure in place to keep your systems running smoothly, you cannot always anticipate a chiller repair need. Chillers are reliable and used in several industries. Regardless, they are complex and require an experienced technician and frequent monitoring to ensure the best performance level.
If you suspect that your chiller is not working properly, contact a service technician at Alliance Comfort Systems as quickly as possible. While your system may be excellent, an investment such as a chiller or multiple chillers should never be left to chance. Repair may save you time and money.
Chiller Repair Support
As an experienced service provider with longevity, we are comfortable handling all of the top brands you may have heard of. We can also source exact parts to integrate within your existing equipment if necessary for repairs through our broad network. Parts applications can help to save you on cost over the replacement of your equipment as a whole. You deserve to get the most of your equipment and should expect it to last for a very long time.
Preventing performance issues is always recommended and can be done through a series of scheduled service options. Having your equipment serviced will help you stay ahead of potential issues before they worsen. Regular service reduces downtimes and ensures that your equipment is working efficiently.
What does Chiller Repair involve?
The process of professionally and regularly inspecting residential, commercial, or industrial chillers to extend the equipment lifespan and improve their efficiency is known as chiller maintenance. This process includes repair and changes on the basis of the chiller type for chiller repair: scroll, reciprocating, screw, and centrifugal. Although it is vital to know how significant it is to conduct preventive chiller maintenance, prevent additional expenses and avoid output below the expected bare minimum, you need to maintain your chiller in the proper working conditions.
Furthermore, the chillers maintenance professionals usually use a repair checklist as the evaluation tool to analyze how the conditions are for the chillers during the regular inspections. For instance, while inspecting the daily temperature reading, the chiller maintenance technicians and operators apply the chiller maintenance and repair checklist.
Besides, this checklist acts as a preventive strategy to prevent any future breakdowns; actually, there are times when the chiller operators and technicians dismiss regular inspections and maintenance during the chiller inspection process. However, they are expected to be competent and thorough to do a practical task rather than contributing to the worsening of a minor problem that would have otherwise been avoided if they did diligent work.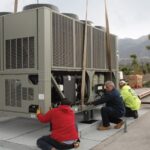 Also, the checklist can be used to check for pressure and temperature gauges, determine prospective chiller faults and avoid short cycling. The chiller professionals can adhere to the process and simultaneously fill the list; they should first examine the chiller's site and its overall condition, and the role it was proposed to perform.
Technicians can assign the repairs with priority levels and due dates, add photos of the damages and repairs, complete the inspection using a digital signature, and keep the maintenance log digitally in the cloud. Besides, most of the time, there are signs of missed faults; this is likely to interfere with the chiller's expected efficiency.
The following are among the top three most dismissed in regards to chiller repairs.
High Approach Temperature chiller repairs. In a situation where the difference in temperature between return water and supply water is more than expected, the contaminants might have built up in the evaporator and condenser tubes. It is crucial to consider enhancing your existing water treatment system or the chemically treated chiller tubes while cleaning them. Besides, since the heat transfer effectiveness directly correlates with the chiller's efficiency, it is essential to ensure all ducts are free from algae, scale, sludge, and other harmful accumulations.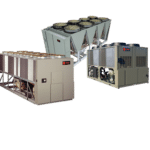 Gradual Pressure Increase. Suppose the condenser pressure constantly increases within the month; the water flow rate might be incorrect, which decreases the chiller's effectiveness. You should calibrate the control system by periodically getting rid of accumulated debris and residue on internal components with the high-velocity and low-pressure blower. The one that does not condense trapped moisture and air increase the compressor power and condenser pressure, leading to power consumption.
Limited Refrigeration or Cooling Load. Suppose the chiller consistently fails to achieve a maximum refrigeration load; the oil might have transferred into the refrigerant, which leads to inaccurate refrigerant levels. Changes in oil attributes might imply a considerable amount of compressor wear; when the fluid refrigerant accesses the compressor and evaporates, it reduces overloaded motor condition, cooling capacity, and potential compressor impeller damage.
Contact Alliance Comfort Systems for chiller repairs
At Alliance Comfort Systems, we offer effective and high-quality chiller repairs; kindly do not hesitate to contact us for exceptional chiller-related information and services.
Address
7200 Distribution Dr, Louisville, KY 40258
Phone: (502) 384-8500 Email:
[email protected]
Opening Hours
| | |
| --- | --- |
| Monday | 9:00 a.m. – 5:00 p.m. |
| Tuesday | 9:00 a.m. – 5:00 p.m. |
| Wednesday | 9:00 a.m. – 5:00 p.m. |
| Thursday | 9:00 a.m. – 5:00 p.m. |
| Friday | 9:00 a.m. – 5:00 p.m. |
| Saturday | Closed |
| Sunday | Closed |