Complete Boiler Service
Selected points for this article
hide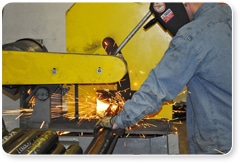 Commercial and industrial boiler service, repair, boiler maintenance, and boiler installation are primary specialties of Alliance Comfort Systems. Located in Louisville, Kentucky. Our highly skilled boiler technicians have a combined history of over 60 years of boiler service experience. We can meet the most complex boiler systems' needs and requirements, whether scheduled boiler maintenance or emergency boiler repairs. Alliance Comfort Systems can custom tailor a Preventative Maintenance Plan to fit your needs and maintain your boiler equipment's performance and reliability.
24/7 Boiler Repair – Our on-call boiler service staff is available 24 hours a day, 365 days a year, and can be on-site within hours of your initial phone call. The Alliance Comfort Systems boiler repair crew will swiftly resolve minor refractory repairs to emergency tube replacement. We understand the importance of minimizing downtime and move quickly to get your boiler system back online as soon as possible.
From installation and start-up, annual open and close inspections, to emergency repairs, our factory-trained boiler technicians provide a fast and efficient response to your boiler needs throughout Kentucky and Indiana.
Welded Repairs (ASME & National Board Certified) – R, S, PP Stamp Certified
Boiler Tube Replacement – Straight, Bent, All Sizes and Thicknesses
Boiler Tube Repair – Sectioning, Pad Welding, Rolling, Bending, Seal Welding
Boiler Refractory – Firebrick, Plastic, Tile, Blanket Insulation, Spray Plating
Boiler Efficiency Testing & Boiler Tuning – Combustion Analysis with the Latest Calibrated Equipment
Boiler Control Up-Grades – Solid State Processor Controlled, Fault Enunciation and History
Boiler Safety Verification
Specializing In:
All Manufacturers' Brands
Water Tube Boilers
Fire Tube Boilers
From 1h.p. to 300,000 lbs./hr.
Low-Pressure Boilers
High-Pressure Boilers
Customized Boiler Preventative Maintenance Programs
For more information on how Alliance Comfort Systems can meet your boiler service needs, call us at (502) 384-8500 or email [email protected].