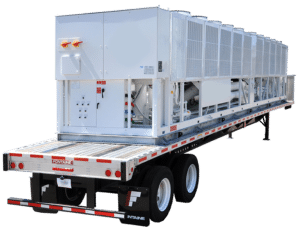 Source for Chiller Rental
When you are in the market for a chiller rental, trust Alliance Comfort Systems as your source to locate cooling equipment. It does not matter whether you need a chiller for a commercial or industrial facility. We can help you find a suitable unit or multiple units that suit your requirements. Avoid the difficulties involved with searching the Internet for a supplier and contact Alliance Comfort Systems.
Your search for a chiller rental solution will likely reveal that it can be a little bit more complicated than expected. In fact, chillers are complex machines, so there are several different factors that you should keep in mind when shopping around for the best option. While your application will be a huge determining factor in what equipment will deliver ideal results, you should also consider your budget and the length of time you will employ.
Because there are many different manufacturing brands on the market, you should always keep your budget in mind when shopping for rental equipment. Ensure that all of the necessary features are included and avoid adding elements that you do not need to maintain your costs. Be aware of any additional requirements that may be necessary to complete the installation of your unit.
Chiller Rental Care
An additional consideration for a chiller rental is service and maintenance. It may seem easy to have a machine delivered and installed, but even rental equipment requires upkeep. A technician with Alliance Comfort Systems can help you keep your systems updated, which is why you can count on our company's expertise.
Rental equipment is still an investment and requires proper care to yield the best results. Your equipment should run efficiently with few to no interruptions while making the best use of energy and helping you maintain climate control at your operation with ease. Circumventing adequate care for your machines is not recommended and may lead to performance issues in the long run.