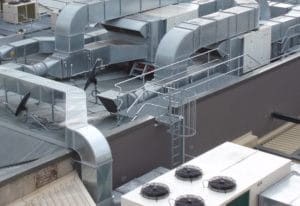 Industrial HVAC Resources
Industrial HVAC needs are far more extensive than those found within residential buildings. Often, large facilities depend on HVAC for operational requirements and therefore climate control plays a very important role in keeping a facility comfortable, safe and productive. Finding a service provider that specializes in heating, cooling, ventilation and air can be challenging because every facility is unique.
At Alliance Comfort Systems, industrial HVAC is our speciality. We are fully capable of handling large jobs within complex buildings. Our technicians have decades of experience in the field. Moreover, we are used to dealing with all of the major brands which manufacturer HVAC equipment for industrial facilities. Discovering the nuances involved in HVAC can be surprising because it really takes a high level of expertise to troubleshoot potential repair issues, offer great solutions and deliver favorable results.
Industrial HVAC Service
Another aspect of industrial HVAC is maintenance. Due to the fact that operations depend on heavy machines to deliver a multitude of activities within the environment or to service other equipment, downtime is prohibitive. When a facility experiences an issue with climate control, an entire operation can be placed at risk. While certain unexpected situations cannot be avoided, every measure should be taken to reduce any downtime.
Should an industrial HVAC system have performance issues in an industrial facility, managers must have access to a reliable service provider that is available. On-call service is critical for establishments that depend heavily on uninterrupted climate control. Alliance Comfort Systems is certainly capable of answering your calls for service and responding in a timely manner to urgent needs.
In addition to providing quality equipment and parts, we can also perform service on existing equipment within your facility. As a reputable expert in HVAC, you can trust that your equipment will be in the hands of experienced technicians who can not only troubleshoot but offer solutions to get your equipment back on the right track. Contact Alliance Comfort Systems regarding service on your HVAC equipment.