Selected points for this article
hide
Commercial Chiller Rentals by Alliance Comfort Systems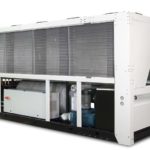 Commercial Chiller rentals by Alliance Comfort Systems are effective in cooling spaces for a limited amount of time. Rental equipment is economical but can also provide the same benefits as a permanent fixture when used in various applications. Temporary cooling needs demand chillers in many different industrial settings. Commercial and private organizations and businesses also find applications for rented cooling equipment throughout the year.
Alliance Comfort Systems specializes in Commercial chiller rentals as a leader in HVAC equipment and service. Finding a chiller for your event or production site is easy when you can turn to a supplier that you can trust. Because
Alliance Comfort System technicians have experience in the field and deal with all capacity equipment, it is a supplier that you can rely on. Even for urgent situations, technicians at Alliance Comfort Systems are on-call and ready to assist with your equipment requirements, both large and small.
Generally speaking, chillers provide the same effect for cooling—however, they process energy differently, which means no single option is available. In fact, when it comes to chillers, there are multiple options available for commercial and industrial facilities. Still, finding a chiller that matches your specifications is less complicated with the advice of an experienced technician.
Commercial Chiller Rentals Specifications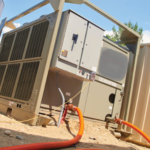 Finding the best Commercial chiller rentals will largely be guided by your application. Chillers may be used for temporary projects, outdoor events, and large gatherings. Chillers can also be used for industrial operations where cooling is a requirement. Rental equipment does vary in capacity, so it is necessary to determine what resources are available to accommodate an installation. The area of the space being cooled should also be factored in when making equipment selections.
Rental equipment, following delivery, and installation may require service periodically. Keep in mind what additional service requirements should be in place to support your equipment's performance for the length of its deployment.
Contact Alliance Comfort Systems to ask about our Commercial chiller rental supplies.
Address
7200 Distribution Dr, Louisville, KY 40258
Phone: (502) 384-8500 Email:
[email protected]
Opening Hours
| | |
| --- | --- |
| Monday | 9:00 a.m. – 5:00 p.m. |
| Tuesday | 9:00 a.m. – 5:00 p.m. |
| Wednesday | 9:00 a.m. – 5:00 p.m. |
| Thursday | 9:00 a.m. – 5:00 p.m. |
| Friday | 9:00 a.m. – 5:00 p.m. |
| Saturday | Closed |
| Sunday | Closed |