Selected points for this article
hide
Kentucky Chiller Repair Specialization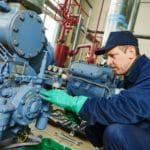 Kentucky Chiller Repair: Commercial centers can rely on chillers with confidence. Even though the equipment is reliable, maintaining them can grow overwhelming due to their extensive demands. You can avoid the arduous task of upkeep on your equipment by enlisting the help of a trusted service provider. Alliance Comfort Systems specializes in Kentucky chiller repair. As experts in HVAC, technicians can diagnose performance issues and work with you to keep your systems up and running smoothly.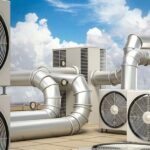 Focusing on all aspects of HVAC, Alliance Comfort Systems has experts on-call. Regardless of whether your system is a high capacity or lower capacity unit, technicians are well-versed in HVAC units found in both commercial and industrial sectors. We understand that minor issues can impact the comfort of your buildings and overall productivity. We realize that when a chiller goes down, it must be returned to service without delay. As a result, we are on-call for our clients, handling service calls throughout the year.
Indications of Kentucky Chiller Repair
Cooling systems should be checked regularly for possible Kentucky chiller repair. Upkeep not only keeps your system working properly, but also has extensive benefits for your budget. Ultimately, when your system is functioning well, you save. Not only do you save in expenses,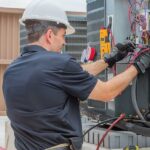 but you also save on energy use, something that is very important to grow companies.
Some Kentucky chiller repair indications include inadequate cooling, noises, leaking hoses, cracked components, and high energy bills. If your chiller is not performing to its peak, contact a service technician at Alliance Comfort Systems for support. We can deliver trustworthy service through our technicians who deliver the finest expertise. Explore our range of options available for commercial chillers, service, and repair. Discover the benefits of working with Alliance Comfort Systems, an HVAC leader, and an air system expert.
Address
7200 Distribution Dr, Louisville, KY 40258
Phone: (502) 384-8500 Email:
[email protected]
Opening Hours
| | |
| --- | --- |
| Monday | 9:00 a.m. – 5:00 p.m. |
| Tuesday | 9:00 a.m. – 5:00 p.m. |
| Wednesday | 9:00 a.m. – 5:00 p.m. |
| Thursday | 9:00 a.m. – 5:00 p.m. |
| Friday | 9:00 a.m. – 5:00 p.m. |
| Saturday | Closed |
| Sunday | Closed |