Selected points for this article
hide
Industrial Air-Conditioning Rentals Sourcing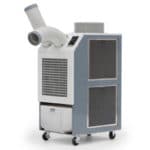 Industrial Air-Conditioning Rentals: Rental HVAC equipment is a helpful solution for projects requiring climate control but on a limited basis. There are many industries in which Industrial air-conditioning rentals may be applied. Rental units are portable and, most importantly, economical. If you search for rental HVAC equipment, including air-conditioning, consider Alliance Comfort Systems a premier choice.
Clients choose Alliance Comfort Systems for Industrial air-conditioning rentals because our technicians have an extensive range of field experience. We handle large-capacity units and smaller systems through our distributor network, including many of the most well-known names in the HVAC industry. Due to our strong relationship with trusted brands in HVAC, we can pass a wide range of selections over to our clients. When it comes to reliable Industrial air-conditioning rentals, you have choices, and Alliance Comfort Systems is capable of delivering.
Industrial Air-Conditioning Rentals Applications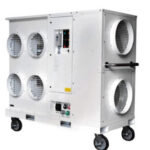 Industrial Air conditioning rentals are applicable both indoors and outdoors. When used in commercial buildings, there are a few important points to consider, such as the unit's placement and operational requirements such as ventilation. Energy usage goals should also be kept in mind because the equipment will require adequate access to provide sufficient cooling when necessary.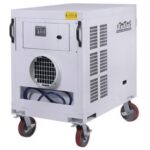 Rental air systems may be ideal in spaces such as retail establishments, offices, manufacturing plants, and IT rooms. Almost anywhere, climate control is necessary; businesses will certainly find an application for Industrial air-conditioning rentals.
One of the most attractive features of a rental air system is its portability. The systems can be placed virtually anywhere as long as conditions permit. Depending on your unique application, it will be necessary to specify your requirements regarding capacity and energy use. Such selections will be guided by how your equipment will be utilized.
Contact us to discover portable air systems through Alliance Comfort Systems.
Address
7200 Distribution Dr, Louisville, KY 40258
Phone: (502) 384-8500 Email:
[email protected]
Opening Hours
| | |
| --- | --- |
| Monday | 9:00 a.m. – 5:00 p.m. |
| Tuesday | 9:00 a.m. – 5:00 p.m. |
| Wednesday | 9:00 a.m. – 5:00 p.m. |
| Thursday | 9:00 a.m. – 5:00 p.m. |
| Friday | 9:00 a.m. – 5:00 p.m. |
| Saturday | Closed |
| Sunday | Closed |