Sourcing Industrial Chiller Rentals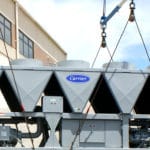 Industrial Chiller rentals are an effective choice for many companies needing cooling temporarily. Alliance Comfort Systems can assist you with finding a chiller unit that can be applied for commercial projects. There are numerous chiller systems available on the market; however, determining which one is right for you may take some legwork—Trust Alliance Comfort Systems with your requirement as a knowledgeable supplier and HVAC expert.
Applications for Industrial Chiller Rentals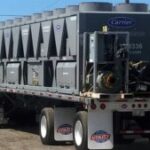 Industrial Chiller rentals can be categorized into air-cooled or water-cooled units. Alliance Comfort Systems is capable of providing both options through a network of distributors. With access to a wide selection, our clients can drill down into the exact piece of equipment to suit their budget requirements and performance specifications. Cooling systems that employ a chiller are heavily relied upon by industry and commercial facilities to maintain comfort or aid in cooling processes in production centers. In scenarios where a permanent fixture has gone down, a rental unit can offer a temporary solution while repairs are conducted on the main system.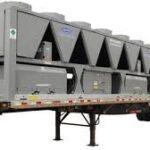 Rental units provide many of the benefits of a permanent system. However, they are cost-effective in terms of budget due to a limited commitment. Based on your budget and operational timeline, you certainly will have control over your investment. Industrial Chiller rentals can help keep your operation moving along, whether it is a work site or outdoor engagement. A professional technician can install rental systems with greater ease, and most importantly, they offer a high level of portability.
Support for Industrial Chiller Rentals
Cooling systems such as chillers are certainly reliable. However, they are not exempt from maintenance requirements. As a service provider, Alliance Comfort Systems can extend service support to clients as an option for chillers. Service is helpful because rental periods may vary. If a unit is deployed for an extended period, service will be necessary for upkeep.
Contact us to learn how we can help with your rental chillers.
Address
7200 Distribution Dr, Louisville, KY 40258
Phone: (502) 384-8500 Email:
[email protected]
Opening Hours
| | |
| --- | --- |
| Monday | 9:00 a.m. – 5:00 p.m. |
| Tuesday | 9:00 a.m. – 5:00 p.m. |
| Wednesday | 9:00 a.m. – 5:00 p.m. |
| Thursday | 9:00 a.m. – 5:00 p.m. |
| Friday | 9:00 a.m. – 5:00 p.m. |
| Saturday | Closed |
| Sunday | Closed |