Selected points for this article
hide
Industrial Air-Conditioning Rentals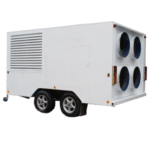 Industrial Air-conditioning rentals are an excellent idea for projects being worked on a limited basis. Moreover, some businesses do not necessarily need to invest in a fixed Industrial air-conditioning system, so a rental unit is a more economical option. Alliance Comfort Systems is a source for rental air systems that are applicable in numerous scenarios. In fact, multiple industries make use of rental units. There is much appeal for the systems which offer a wide range of options for facilities needing temporary climate control.
Alliance Comfort Systems can supply a vast range of equipment for industrial facilities as well as commercial operations. We can offer our clients units that range in size and capacity through a large network of manufacturers and distributors. Regardless of your application, there are Industrial air-conditioning rentals that are a great fit for your project. Rental systems may be used for outdoor work sites, shelters, rescue operations, and festive events.
Industrial Air-Conditioning Rentals and Service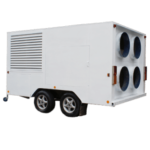 Industrial Air-conditioning rentals may be deployed for varying lengths of time, depending on what they will be used for. HVAC equipment must be serviced regularly so that it runs efficiently. Rental systems should also be serviced at regular intervals to maintain performance. Even a rental unit may need repair due to parts being broken. Fluids at some point may be topped off or parts replaced.
A service technician can help with the details of caring for a rental climate control unit. Alliance Comfort Systems is your source for not only rental equipment but service as well. Consider sourcing your next Industrial air-conditioning equipment for use on a short-term basis through Alliance Comfort Systems. We can work with you to find an effective solution that delivers the climate control you need.
Address
7200 Distribution Dr, Louisville, KY 40258
Phone: (502) 384-8500 Email:
[email protected]
Opening Hours
| | |
| --- | --- |
| Monday | 9:00 a.m. – 5:00 p.m. |
| Tuesday | 9:00 a.m. – 5:00 p.m. |
| Wednesday | 9:00 a.m. – 5:00 p.m. |
| Thursday | 9:00 a.m. – 5:00 p.m. |
| Friday | 9:00 a.m. – 5:00 p.m. |
| Saturday | Closed |
| Sunday | Closed |