Selected points for this article
hide
Commercial Boiler Service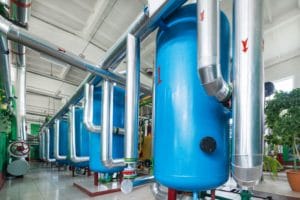 Commercial boilers are complicated when applied in large facilities. They require the care of a service technician with special experience. Alliance Comfort Systems handles boiler service for commercial and industrial facilities. The maintenance requirements for boilers in commercial buildings may vary based on how they are used. Service needs may include delivery and installation, as well as follow-up care. Boiler systems should be placed on a care plan to ensure consistent performance.
Boiler service may be necessary if there is a performance problem with a unit. Boilers provide heating, and one of the first indicators that there is a problem is when the equipment is doing just the opposite. Inadequate heating is a sign that there may be a serious issue with a boiler. Boilers also tend to make noise when certain components are loose or broken. Broken parts must be repaired quickly. When components of a unit are not repaired, the system may fail to work properly.
Boiler Service and Productivity
In some cases, a unit may not work at all. Because businesses cannot afford to be without heat during critical times of the year, service is a must. Additionally, manufacturing facilities may need heat from a boiler to perform important tasks required by an operation. Productivity will become an issue in scenarios where a business depends on a boiler to operate the equipment.
Alliance Comfort Systems is on call and capable of handling boiler service for all capacity units. Our technicians are experienced in managing the upkeep of commercial and industrial units. You can rely on Alliance Comfort Systems as a source for service and also parts. As a reputable HVAC expert, we handle jobs of all sizes with quality and concern. We know that getting your equipment online is time-sensitive. Allow Alliance Comfort Systems to deliver much-needed service for your commercial boiler systems.