Selected points for this article
hide
Commercial Air-Conditioning Rentals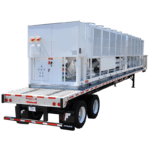 Companies have realized the benefits of commercial air-conditioning rentals.  Alliance Comfort Systems provides quality rental units for industrial facilities and commercial profit centers. As a regional resource for the most effective HVAC models, we're an area specialist with a full understanding of the business requirements. Rental temperature control devices sourced through us will deliver in effectiveness while simultaneously fulfilling your budgetary needs.
Among the leading reasons businesses decide to deploy Commercial air-conditioning rentals is because the units offer versatility. The systems vary in a range of sizes and capacities. Due to the growing demand for portable cooling equipment, we are poised to deliver a great selection to our clients from all business sectors. Although requirements vary between different facilities, both large and small, we can help you identify a suitable piece of equipment that will not break your budget. 
Professional temperature control is an important part of operating an industrial or commercial facility. Air conditioners promote comfort, safety, and air quality in facilities. Moreover, the demand for managing temperature occurs year-round. Because climate control is an ongoing process, access to rentals is useful in several scenarios.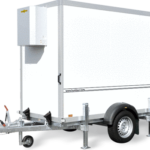 Rental A/C equipment may be used as a way to get supplementary cooling during planned outages. Planned shutdowns are sometimes placed on schedule so that service technicians can do major work on units. Because the time spent under repair might be uncomfortable for building occupants, rental air systems can provide a measure of relief. 
In some areas, power outages are common due to high usage and billowing populations. In regions where temperatures reach extreme levels, rental systems are a helpful backup plan that may be used to keep an operation moving forward. 
Below are just a few examples of how Commercial air-conditioning rentals may be used across different industrial sectors to provide cooling on-demand. 
Area cooling

Construction work sites

Universities and schools

Hospitals, clinics, and laboratories

Commercial Structures

Events (Outdoor and Indoor)
Reasons to Invest in Commercial Air-Conditioning Rentals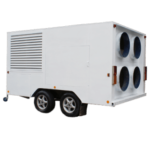 The possibilities are practically limitless when it involves numerous ways where a mobile cooling unit can be applied. It is important to note that our clients may select from a wide range of brands currently available from the main manufacturers in heating and cooling. Modern Commercial air-conditioning rentals are available in numerous size options, so clients don't need to feel restricted by space constraints. Additionally, if budgets are an issue, you will find sufficient choices available to match your company's project goals.
Investing in rental air systems is a great choice for companies wanting to cool on a short-term basis or perhaps for an extended time period. Furthermore, as an HVAC industry expert, we offer expanded abilities, including maintenance, repair, and service on HVAC systems. In case you're searching for a dependable equipment dealer, join our loyal clients, and choose Alliance Comfort Systems. We're here to help you by sourcing the very best in HVAC. 
Do you have questions about the Commercial air-conditioning rentals? Contact us.
Address
7200 Distribution Dr, Louisville, KY 40258
Phone: (502) 384-8500 Email:
[email protected]
Opening Hours
| | |
| --- | --- |
| Monday | 9:00 a.m. – 5:00 p.m. |
| Tuesday | 9:00 a.m. – 5:00 p.m. |
| Wednesday | 9:00 a.m. – 5:00 p.m. |
| Thursday | 9:00 a.m. – 5:00 p.m. |
| Friday | 9:00 a.m. – 5:00 p.m. |
| Saturday | Closed |
| Sunday | Closed |