Selected points for this article
hide
Louisville Kentucky Chiller Rental Premier Source for Businesses

Alliance Comfort Systems is a trusted source for Louisville Kentucky chiller rental equipment. We supply chillers for industrial and commercial customers. Furthermore, you can pick from a range of water-cooled and air-cooled chillers, which may be great for short-term projects. Our rental systems offer an economical method for gaining the cooling effects that you need on your own terms. If you have a future or current need for a chiller, contact us. We are a Louisville Kentucky chiller rental premier source for commercial and industrial facilities.
Choosing the right Louisville Kentucky chiller rental is less difficult with a product expert. Our service technicians bring field experience to every one of our customers. We handle service jobs for chillers of all sizes manufactured by each of the significant brands in HVAC. Our technicians are comfortable dealing with the complexities of business heating and cooling needs. Working with chillers is not at all an exception. The truth is, we're subject matter experts.
You can save time by working with Alliance Comfort Systems to determine the best Louisville Kentucky chiller rental for your application of yours. Navigating the web for equipment can be time-intensive. Also, it's not always feasible to purchase from a manufacturer directly. Should you choose Alliance Comfort systems, we can help you work through complex configurations and your equipment specifications to find a suitable unit.
More Chiller Options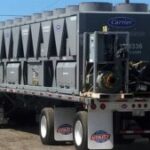 While we can support your short-term Louisville Kentucky chiller rental requirements with selection, installation, and delivery, we also are a seasoned service provider. Because chillers are used in different capacities, choosing a unique program will present some workable challenges. As a Louisville Kentucky chiller rental premier source, allow us to provide our expertise throughout the process of operating your Louisville Kentucky chiller rental.
Maintenance requirements are important when shopping around for the best chiller unit. The fact of the issue is that chillers, no matter how long they're in use, demand frequent attention. Cooling systems use high energy voltage, high pressure, and dangerous liquids.
Our service technicians are on-call to respond. We answer the call for service with no delay. Furthermore, we can service rental units if needed with quality components since we have access to parts. The upkeep of your chiller, of course, is vital to your operation. Moreover, achieving efficient performance will save your facility on operational expenses.
Service for Chillers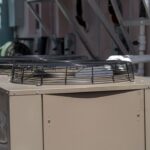 As an option, we provide preventative maintenance plans for rental systems. Preventative maintenance includes routine inspections, monitoring, reporting, and services to improve your chiller's sustainability.
Renting a chiller is a great way to obtain cooling for several commercial and industrial projects. Whether you need a unit for a temporary worksite or perhaps a long-term supplement, our service professionals can work with you to locate a budget-friendly system that works for your application. Choose Alliance Comfort Systems for the best in HVAC. Your operation deserves nothing less than the top equipment around to complete your temperature control missions.
Contact us to find out exactly how we can support your upcoming requirement for a Louisville Kentucky chiller rental.
Address
7200 Distribution Dr, Louisville, KY 40258
Phone: (502) 384-8500 Email:
[email protected]
Opening Hours
| | |
| --- | --- |
| Monday | 9:00 a.m. – 5:00 p.m. |
| Tuesday | 9:00 a.m. – 5:00 p.m. |
| Wednesday | 9:00 a.m. – 5:00 p.m. |
| Thursday | 9:00 a.m. – 5:00 p.m. |
| Friday | 9:00 a.m. – 5:00 p.m. |
| Saturday | Closed |
| Sunday | Closed |