Louisville Chiller Rentals Industrial Equipment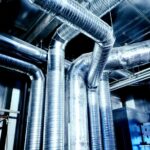 Because of the significant number of choices provided today, deciding upon Louisville chiller rentals could be a difficult job. Assistance from a proven professional is likely to produce the search for Louisville chiller rentals and industrial solutions easier.  Alliance Comfort Systems is an HVAC expert with experience in servicing complex industrial air systems.  Clients rely on Alliance Comfort Systems, a reliable resource for quality cooling materials.  Furthermore, Alliance Comfort Systems is an SME in all aspects of heating and cooling systems.  Working with industrial and business customers, service technicians manage tasks big and small to satisfy their shifting requirements. 
Deployable Louisville Chiller Rentals for High Capacity Loads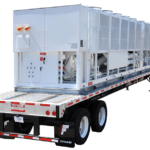 Regardless of funding, clients are in a position to procure Louisville chiller rentals.  Additionally, Alliance Comfort Systems does react to leasing inquiries.  Our support specialists are actually accessible 24/7 to respond to telephone calls. Locating Louisville chiller rentals and industrial solutions for large facilities is hassle-free with Alliance Comfort Systems. 
Alliance Comfort Systems has allowed access to a choice of Louisville chiller rentals.  Service technicians manage all aspects of HVAC.  Through a substantial supplier community, clients can decide on a machine that provides quality, productivity, and performance.  Furthermore, Alliance Comfort Systems specializes in the primary HVAC brands on the market. 
Options for Rental Chiller Units
Clients looking for water-cooled and air-cooled chillers will observe a superb selection with Alliance Comfort Systems.  Once employed on a leased agreement, chillers are energy-efficient and more economical.  The rental units could be used as a backup cooling system, added air circulation, and a solution for lengthy projects. Chillers can be used in emergencies, natural disasters, and more. Air conditioning is a need that can be filled year-round. 
Alliance Comfort Systems provides chiller products in the most recognized models throughout the HVAC market.  Clients rely on quality parts besides service as well as professional care with Alliance Comfort Systems. Our clients are happy to find a wide selection of models that are also backed by service expertise. 
Rental Selection for Chillers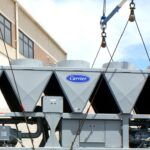 Chillers are big and complex machines. The equipment fills a wide selection of applications across a wide range of companies. Rental chillers are, in reality, perfect for temporary work sites and backup heating requirements.  The equipment also delivers a fantastic advantage as it works to support the continuing cooling requirements of businesses. 
Don't delay service calls if there's a problem with a chiller.  Additionally, end-users can improve chiller life cycles with preventative applications.  What's more, the preventative measures anticipate potential problems and fix them before situations deteriorate. 
Preventative programs supply a wide selection of advantages for end-users.  Service specialists with Alliance Comfort Systems are in a position to provide scheduled tracking for HVAC units.  In conclusion, preventive maintenance choices position reports and predictive maintenance services for chillers and HVAC rentals. Explore our list of service options available for commercial and industrial clients. Representatives are on-call 24/7 to field calls. We are responsive. 
Contact us to inquire about our rental chillers for commercial and industrial use. Procure your next chiller requirement with Alliance Comfort Systems. 
Address
7200 Distribution Dr, Louisville, KY 40258
Phone: (502) 384-8500 Email:
[email protected]
Opening Hours
| | |
| --- | --- |
| Monday | 9:00 a.m. – 5:00 p.m. |
| Tuesday | 9:00 a.m. – 5:00 p.m. |
| Wednesday | 9:00 a.m. – 5:00 p.m. |
| Thursday | 9:00 a.m. – 5:00 p.m. |
| Friday | 9:00 a.m. – 5:00 p.m. |
| Saturday | Closed |
| Sunday | Closed |