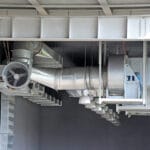 HVAC units can be used to gain cleaner air in facilities with Industrial coronavirus sanitizer service. In fact, we provide sanitizing services for HVAC systems in commercial and industrial buildings. The most recent developments around coronavirus and COVID-19 have prompted companies to evaluate infection control in buildings. Industrial Coronavirus sanitizer is an ideal approach for managing potential infections.
The cornerstone of our Industrial coronavirus sanitizer is needlepoint ionization. In fact, our service technicians are on call 24-hours per day to field calls for assistance. Your service technician can install a bipolar ionization device on your heating and cooling unit. 
The benefits of bipolar ionization
Bipolar ionization kills viruses, eliminates foul odors, and controls outside air. Additionally, bipolar ionization removes VOCs and improves indoor air quality. Good indoor air quality contributes to a breathable environment. Furthermore, clean air reduces exposure to pollutants, mold, and mildew.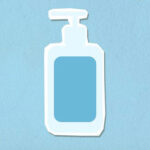 Global Plasma Solutions, as an Industrial coronavirus sanitizer, works by generating free radical ions. The ions are formed as the result of a hydrogen bond being removed from a viral molecule. Without a necessary hydrogen bond, a germ cannot thrive. In fact, once a hydrogen bond is taken away from a molecule, the germ is rendered inactive. As a result, the new germ compound is incapable of infecting an individual. To finalize bipolar ionization, free radicals attack pathogens like viruses and kill them in the air and on hard surfaces. Global Plasma Solutions is an effective device for commercial and industrial HVAC units. 
Our Industrial coronavirus sanitizer service provides extensive options for large facilities. In the aftermath of coronavirus, companies are working hard to keep facilities free from viruses and germs overall. At the CDC's urging, larger facilities have been implementing new measures to keep operations running while still serving customers. 
Recommendations on Commercial Sanitizing of Facilities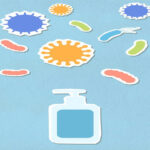 In addition to common hygienic practices, the CDC also recommended that facilities overview their HVAC equipment. Ventilation and breathable air are essential in the fight against COVID-19. Even though coronavirus has been a challenge for facilities, business owners are not powerless. HVAC units are readily available. In fact, end-users will quickly discover that they can expand on their system's capabilities.
The cost of maintaining HVAC units is sizable for businesses. It is only normal to suggest that companies gain even more from the performance of air units. Furthermore, Global Plasma provides energy savings for facilities needing to reduce spending. The benefits of Global Plasma are three-fold. Schools, offices, and medical centers have found that Global Plasma offers better air quality. Alliance Comfort Systems services commercial and industrial clients with industry-leading equipment from the most known brands in the HVAC industry. As an industry leader, we service a wide area that covers the local area and neighboring cities. 
We are experts in HVAC. We provide a wide range of services including equipment rental, parts, repair, and more. Our service technicians specialize in providing service to commercial buildings and industrial plants year-round. Learn more about the scope of our HVAC work and clean air capabilities. 
Contact us to ask about our commercial coronavirus sanitizing treatments.
Address
7200 Distribution Dr, Louisville, KY 40258
Phone: (502) 384-8500 Email:
[email protected]
Opening Hours
| | |
| --- | --- |
| Monday | 9:00 a.m. – 5:00 p.m. |
| Tuesday | 9:00 a.m. – 5:00 p.m. |
| Wednesday | 9:00 a.m. – 5:00 p.m. |
| Thursday | 9:00 a.m. – 5:00 p.m. |
| Friday | 9:00 a.m. – 5:00 p.m. |
| Saturday | Closed |
| Sunday | Closed |