Industrial Sanitizer Service Options for Buildings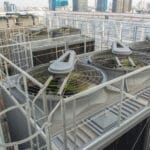 Eliminating viruses in commercial buildings with industrial sanitizer is worth considering. HVAC systems provide a range of industrial sanitizer options that are economical. In fact, heating and cooling systems are ideal for temperature control as well as air purification. What's more, end-users will benefit from the expanded capabilities of HVAC. 
The CDC recommends that companies evaluate HVAC units as a possible response to COVID-19 guidance. Ventilation systems, in fact, may harbor germs if they are not maintained correctly. A licensed service technician can assess a commercial HVAC unit to determine its clean air capabilities.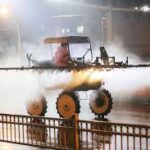 Impurities within a facility can contribute to illness among building occupants. In truth, exposure to contaminants can result in serious side effects. Each year, individuals miss work due to illnesses that are typically preventable with the right measures in place. Since the emergence of the coronavirus, companies are looking for industrial sanitizer options that are easily accessible. Through Alliance Comfort Systems, industrial sanitizer service is certain to provide at least some measure of protection against harmful microorganisms. 
Did you know that your HVAC system can be used to stop pathogens from spreading throughout a ventilation system? In fact, HVAC systems can remove microorganisms such as viruses, bacteria, mold, and mildew from facilities. We use a technology known as needlepoint ionization, which helps to provide cleaner air. Furthermore, needlepoint ionization renders germs ineffective with minimal effort. 
Industrial Sanitizer and Needlepoint Bipolar Ionization
Needlepoint bipolar ionization is an elaborate process used to remove pollutants from HVAC units. As an industrial sanitizer, needlepoint ionization uses free radicals to destroy viruses and VOCs. According to research, the device delivers a high kill rate for common germs. Moreover, heating and cooling units are an ideal tool in the fight against viruses such as COVID-19. The instrument shows promise as it is capable of killing other coronaviruses such as SARS and MERS. Needlepoint bipolar ionization works by removing a hydrogen bond from a molecule, thereby creating the ions. 
Effects of Viral Outbreaks in Facilities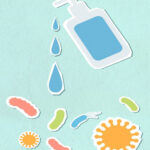 Viral outbreaks in facilities can cost businesses money. Individuals may become ill due to exposure, which subsequently reduces productivity. Reduced productivity can mean lost profits for busy operations. Employers are encouraged to provide the safest possible environment for both employees and customers using tested methods. 
There are more great benefits to bipolar ionization. The technology not only kills harmful microorganisms, but it also helps businesses save money. When applied to HVAC units, needlepoint ionization helps to control the flow of outdoor air. Outdoor air inside of a facility contributes to mold, mildew, and bad odors. Furthermore, outdoor air causes irregular temperatures.
Alliance Comfort Systems is an expert service provider for industrial HVAC. Our clients rely on us to deliver quality parts, equipment, and service for tough jobs, including air purification. We are equipped with a cutting-edge product that has been proven effective in removing pollutants from the air. Investing in clean air technology with Alliance Comfort Systems is certainly worth considering.
Interested in learning how our sanitizer for industrial facilities can work for you? Contact us.
Address
7200 Distribution Dr, Louisville, KY 40258
Phone: (502) 384-8500 Email:
[email protected]
Opening Hours
| | |
| --- | --- |
| Monday | 9:00 a.m. – 5:00 p.m. |
| Tuesday | 9:00 a.m. – 5:00 p.m. |
| Wednesday | 9:00 a.m. – 5:00 p.m. |
| Thursday | 9:00 a.m. – 5:00 p.m. |
| Friday | 9:00 a.m. – 5:00 p.m. |
| Saturday | Closed |
| Sunday | Closed |