Industrial Chiller Repair Service Solutions for Facilities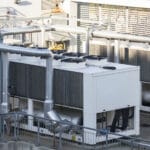 Alliance Comfort Systems is an authority on HVAC. We can work to restore operation to your chiller when it is not working correctly. We provide Industrial chiller repair service solutions for commercial and industrial clients. Facility managers need to stay on top of Industrial chiller repair issues with standard maintenance. The fact of the matter is that emergencies can happen at any time. Our experienced technicians are available 24/7 to handle service calls.
Chillers are trustworthy cooling units that deliver cool air to buildings. Additionally, the HVAC systems are complicated and consist of many components. In fact, because chillers' design is complicated, working with a commercial service technician is recommended. Alliance Comfort Systems technicians can assist end-users with managing Industrial chiller repair service solutions. Industrial Chiller repair needs may vary from simple to incredibly complex depending upon the situation.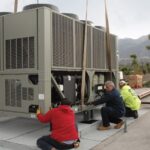 Maintenance is a key part of keeping chillers in working condition. Regular maintenance allows chillers to remain in operation for an extended period of time. Furthermore, energy savings is important to facilities because it translates into cost savings. Chillers that do not run efficiently will result in higher energy costs for facilities. 
As a way to manage expenses, commercial buildings may consider investing in professional care for HVAC units. All air-conditioning units, including chillers, include many parts that will inevitably need repair or replacement.
Industrial Chiller Repair Services for Commercial Buildings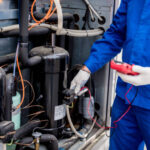 Indications that Industrial chiller repair is needed are obvious to end-users in most cases. Chillers provide some signals that they need service. For example, a chiller may not provide the right amount of cooling. Regular inspections performed by a service technician, however, can help to reduce issues with chillers. Moreover, our service experts are capable of providing maintenance to lessen repair problems. 
A high energy bill is an indicator that Industrial chiller repair is needed. The reason why facilities use chillers is that they are energy efficient. The air systems provide cooling while also conserving energy. The reality, however, is that chillers harness high volts of electricity. Chillers may experience electrical surges. High surges of energy can, in fact, damage a chiller. One of the signs that a chiller needs repair is an unusually high electric bill. End-users can avoid potential performance problems with chillers by hiring an experienced service technician. 
Maintaining a chiller is manageable with the assistance of a technician from Alliance Comfort Systems. We offer excellent service. Moreover, we are a supplier of HVAC parts. We offer the top brands in the HVAC industry. Additionally, we can support the repair needs of commercial facilities with custom options. Our clients can depend on us to provide quality parts and reputable service. We can offer a wide selection of equipment that may be used for HVAC repairs through a sizable network.
Looking for repair options for chillers is easy with Alliance Comfort Systems, an expert in HVAC. Explore our service categories.
Contact us regarding our repairs services for Industrial Chiller Repair.
Address
7200 Distribution Dr, Louisville, KY 40258
Phone: (502) 384-8500 Email:
[email protected]
Opening Hours
| | |
| --- | --- |
| Monday | 9:00 a.m. – 5:00 p.m. |
| Tuesday | 9:00 a.m. – 5:00 p.m. |
| Wednesday | 9:00 a.m. – 5:00 p.m. |
| Thursday | 9:00 a.m. – 5:00 p.m. |
| Friday | 9:00 a.m. – 5:00 p.m. |
| Saturday | Closed |
| Sunday | Closed |