Industrial Boiler Service Selections for Facilities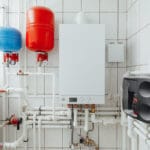 Industrial Boiler service selections may be necessary when a heating unit isn't functioning properly. Alliance Comfort Systems provides professional service for commercial facilities and industrial plants. The service technicians at Alliance Comfort Systems deliver expertise that dates back several decades. Furthermore, our heating and cooling experts are factory trained, and field experienced. We understand the unique aspects of Industrial boiler service and commercial heating and cooling. What's more, Alliance Comfort Systems offers a vast range of boilers services including repair, maintenance, and parts. 
Commercial building managers must handle boiler issues with care. Broken heating systems require immediate attention because they can hurt productivity in a facility. Additionally, Industrial boiler service selections provide a preventative response to avoid problems in the future.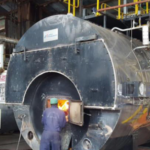 The reality is that not all signals indicate an urgent requirement for Industrial boiler service. It is always best, however, to be cautious when addressing heating concerns. Heating and cooling service technicians are on-call 24/7 year-round to reply to calls. Our service technicians are situated to respond to calls for help promptly. Furthermore, faulty HVAC units contribute to an uncomfortable facility. The fact is that when a building is not comfortable, productivity may be impacted. Additionally, continued performance problems with a heating system will result in higher energy costs.
Reliable Industrial Boiler Service Options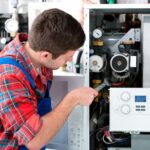 Finding a reliable Industrial boiler service expert should not be a difficult task. In fact, when our clients decide to go with Alliance Comfort Systems as a provider, they have teamed up with an industry expert. The service technicians at Alliance Comfort Systems are, in fact, factory-trained SMEs. Furthermore, we have established valuable connections with HVAC manufacturers and distributors to obtain quality equipment as a company. We work with the best brands in the heating and cooling industry. Finally, our strong bond with top industry brands allows us access to the best boiler parts. 
Because not all issues are considered crucial surrounding a boiler, speaking with a service technician is the best course. Ultimately, we provide preventative care for boilers for long-term upkeep. As a result, we provide preventative maintenance plans for commercial and industrial clients. 
Service Expertise from the Field
Alliance Comfort Systems service technicians can provide boiler inspections on schedule. Our service experts gather relevant information about the equipment and report on any potential performance problems. Additionally, service technicians conduct predictive maintenance to eradicate potential issues early. In truth, preventative maintenance plans for commercial heating units are a savvy investment. 
Consider reaching out to Alliance Comfort Systems to discover how to improve your commercial HVAC systems' performance. We are a leader in HVAC covering the local region and even further. Browse our service capabilities and ask about some of our preventative maintenance measures. 
Contact us to inquire about expert boiler care. 
Address
7200 Distribution Dr, Louisville, KY 40258
Phone: (502) 384-8500 Email:
[email protected]
Opening Hours
| | |
| --- | --- |
| Monday | 9:00 a.m. – 5:00 p.m. |
| Tuesday | 9:00 a.m. – 5:00 p.m. |
| Wednesday | 9:00 a.m. – 5:00 p.m. |
| Thursday | 9:00 a.m. – 5:00 p.m. |
| Friday | 9:00 a.m. – 5:00 p.m. |
| Saturday | Closed |
| Sunday | Closed |