Selected points for this article
hide
Sourcing Industrial Chiller Rentals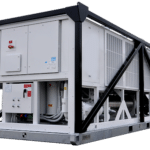 Industrial chiller rental selection is provided by Alliance Comfort Systems. The air-conditioning units are used at industrial plants, universities, and warehouses. Industrial chiller rentals offer a solution for temporary cooling needs. Because industrial plants require air-conditioning all year, unit outages cause severe delays in productivity. For this reason, Industrial chiller rentals are used for emergency cooling requirements. In addition to urgent cooling needs, chillers are used for short-term cooling at events and outdoor gatherings. Opting to install a brand new chiller system is costly for facilities, so rental units are ideal.
Industrial chillers are resilient against wear. However, they still break. Chiller systems within industrial buildings function under harsh conditions, and therefore experience wear sooner than other facilities. Faulty chiller parts result in subsequent damage and potential system failures. Facilities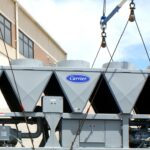 circumvent significant profit losses by deploying supplementary cool air in the form of Industrial chiller rentals. Alliance Comfort System offers a variety of chiller models for rent for industrial facilities.
Working with a sizable distributor network, Alliance Comfort System offers prominent brand names in heating and cooling. Additionally, customers prefer having access to cost-effective options that are also customizable. Chiller systems are installed in a range of establishments across several unique industries. Since industrial plants need chillers to run without issue, small repairs need to be addressed promptly. While repairs are being made, temporary cooling through Industrial  chiller rentals selection is useful. Supplementary units allow businesses to continue despite primary breakdowns.
Service Capabilities for Industrial  Chiller Rentals Equipment

Industrial chillers need maintenance to remain in working condition. A service technician possesses the equipment required to keep chillers updated. Rental units need care like permanent systems. Routine maintenance delays the impact of faulty parts. Unplanned outages due to broken parts are costly for facilities. The repairs required to return a system to service are equally as expensive.
Alliance Comfort Systems cares for Industrial  chiller rentals with expert service options. In addition to service, Alliance Comfort Systems also offers a range of parts from the top names in HVAC. Common elements that require assistance on a chiller include fans, lines, compressors, and pumps. Through a network of parts suppliers, clients can access difficult-to-find parts with ease.
The additional services available to industrial customers include preventative maintenance. Preventative maintenance consists of a series of programs that offer to monitor and to report for chiller units. Furthermore, service technicians provide seasonal care and predictive maintenance. Preventing damage early is one of the best ways to gain the most use of an industrial chiller. Learn more about how Alliance Comfort Systems can provide support for rental HVAC units.
HVAC Equipment Rental
Convenient HVAC Equipment Rental