Selected points for this article
hide
Provider of Industrial Chiller Repair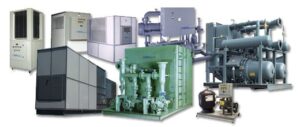 Industrial chiller repair needs are met with Alliance Comfort Systems. Extensive facilities depend on chillers to provide cool air on-demand. Chillers in an industrial setting may experience wear at a higher rate than average. Complex facilities with complex ventilation systems are filled with numerous parts. Parts both small and large may break, leading a chiller to malfunction. Broken air-conditioning units need chiller repair quickly. Because chillers are complicated, a service technician should inspect units for the best results.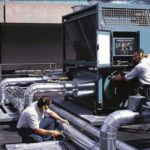 Alliance Comfort Systems provides maintenance services for industrial chiller repair needs. Faulty chillers are not only an inconvenience for facilities, but they are also costly. The broken systems use up more energy, which results in higher costs for companies. Additionally, since the purpose of chillers is to provide cool air, damaged units cause uncomfortable settings. Faulty cooling systems contribute to a decline in productivity as building occupants grow uncomfortable with inadequate temperatures.
Temperature control in facilities is critical not only to comfort but to air quality and production. Manufacturing facilities depend on air and water temperatures to carry out relevant processes. Chillers that are not working can cause a facility to grind to a complete halt. Industrial chiller repair needs to be supplemented with backup systems to keep operations running smoothly. Alliance Comfort Systems also provides rental units that are used for temporary cooling solutions.
Parts for Industrial Chiller Repair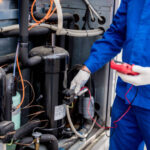 The parts of a system that need industrial chiller repair to fall within several different categories. Repair needs, of course, vary depending on the unique situation that a facility is faced with. The factors that contribute to chiller repair needs are inefficient operations. Pushing a chiller beyond its capacity will stress the equipment and cause it to expend energy. Additionally, when end-users adjust flow rates incorrectly, the equipment then becomes damaged through erosion. Chiller components that are worn out lose integrity and, as a result, are incapable of cooling the air properly.
Insufficient maintenance also results in poor chiller performance. Maintenance activities help to keep chiller parts clean. Excess debris destroys a chiller's components and slows the flow of water to the crucial areas of a unit. High-efficiency chillers require special attention from industrial service technicians. Chillers that do not undergo regular maintenance are at risk for critical system failures.
Chiller Maintenance Needs
Industrial facilities require preventative maintenance to reduce severe damage to chillers. Preventive care is performed by a service technician. The programs for pre-scheduled maintenance include monitoring, status updates, and remote reporting. The technology available enables end-users to know how well their systems are performing. Additionally, predictive maintenance is performed to circumvent damage before it happens. Considering the role of chillers in industrial settings, preventative maintenance programs are a worthwhile investment.
Address
7200 Distribution Dr, Louisville, KY 40258
Phone: (502) 384-8500 Email:
[email protected]
Opening Hours
| | |
| --- | --- |
| Monday | 9:00 a.m. – 5:00 p.m. |
| Tuesday | 9:00 a.m. – 5:00 p.m. |
| Wednesday | 9:00 a.m. – 5:00 p.m. |
| Thursday | 9:00 a.m. – 5:00 p.m. |
| Friday | 9:00 a.m. – 5:00 p.m. |
| Saturday | Closed |
| Sunday | Closed |