Selected points for this article
hide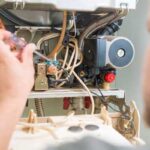 Louisville KY Boiler repair is an essential part of boiler maintenance. However, you can avoid reaching the point of needing Louisville KY boiler repair services by scheduling annual care and checkups by Alliance Comfort Systems. Our trained and licensed technicians can regularly have a look at your boiler and ensure that from time to time, they give you a report on how efficient the boiler is, what changes need to be made and where they need to be made.
Many fear that these checkups may be too costly for them, and they would rather have their boilers continue functioning, hoping that it would not be problematic any time soon. But they forget that they have warranties that cater to these expenses for the specified warranty period. The catch is that your boiler needs to be undergoing a boiler service annually. Sometimes, it is indispensable to call qualified technicians from Alliance Comfort Systems to check on the Louisville KY boiler repair because as time passes, the boiler becomes less effective.
Here are some of the symptoms that your Louisville KY boiler repair may be crying for help; radiators not thoroughly heating, low water pressure, unusual noise, pilot troubles, and water leakage.
Louisville KY Boiler Repair symptoms
If there are signs of water leakage, this may lead to the boiler's significant components' failure, rendering it useless. The water leakage intensity may determine whether or not a boiler can be repaired because some levels of leakage may be tough to resolve and perhaps too expensive to even think about fixing. Therefore, it would be best to call us at Alliance Comfort Systems as soon as you notice the slightest leaks to combat the situation before it gets worse and forces you to buy a new boiler, something you had not budgeted on.
Unusual noises like gurgling, banging, rumbling, and whistling are not typical characteristics of boilers. On the contrary, a Louisville KY boiler repair system is always quiet. Therefore, when you hear these noises, it is a cause of concern, and a technician should come and look at your boiler to determine where the noise is coming from, the intensity of the problem, and how best they can solve it. These noises can mostly be caused by air getting into the boiler system or the build-up of mineral deposits in the system.
There is a standard minimum pressure that boilers work with such that when the pressure drops below this set minimum pressure, a safety switch automatically shuts down the boiler. This low-pressure problem can be a result of air leaks and issues in the expansion tank.
When the transducer shuts off the boiler system's gas supply, a defect makes the pilot lights not stay lit. Such a problem can only be addressed by a professional who knows what they are doing.
When radiators are not thoroughly heating, you might be forced to do chemical flushing or full system bleed. This problem is mostly caused by air in the system or build-up in the boiler.
Boiler safety tips
From these problems, it is noticeable that air and deposit build-up do more harm than good in the boiler system, and they should be checked regularly and cleaned to avoid further problems.
Contact us with questions about our services for Louisville KY Boiler Repair.
Address
7200 Distribution Dr, Louisville, KY 40258
Phone: (502) 384-8500 Email:
[email protected]
Opening Hours
| | |
| --- | --- |
| Monday | 9:00 a.m. – 5:00 p.m. |
| Tuesday | 9:00 a.m. – 5:00 p.m. |
| Wednesday | 9:00 a.m. – 5:00 p.m. |
| Thursday | 9:00 a.m. – 5:00 p.m. |
| Friday | 9:00 a.m. – 5:00 p.m. |
| Saturday | Closed |
| Sunday | Closed |