Louisville Chiller Repair Options for Commercial HVAC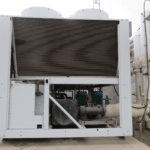 Evidence that Louisville chiller repair is needed comes directly from the performance indicators of a system.  A chiller system will give some signals that there is a problem.  Cooling systems may not provide the ideal temperature  Alliance Comfort Systems provides Louisville chiller repair  options for commercial and industrial facilities in the area.
Alliance Comfort Systems is a reliable service provider, which offers year-round repairs for chiller equipment if required. Our technicians trained in the factory strive for high-quality call service. Of course, it is good to protect facilities from problems with chillers by introducing standard maintenance. Unexpected difficulties can happen at any time.  Our service experts can respond 24 hours a day to calls for Louisville chiller repair options.
Another common indicator that a repair of the cooling system is necessary is a significant increase in energy costs. Cooling systems are used at industrial plants because they are thought to be energy efficient.  Because the techniques are performed at a remarkably high voltage, their mechanisms are specially designed to save electricity.   Whenever your device is overloaded, it is highly likely to be overcompensated while it provides exhaustive performance.  High energy costs are a symptom of wasting electrical energy.  An abnormally high energy bill is an indication of possible repair conditions. 
Louisville Chiller Repair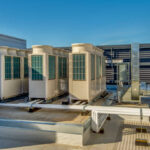 Professional service enables us to contribute to the longevity of your HVAC systems. From dispatch and transport to service and installation, our experts are able and ready to deliver the most efficient equipment on the market. In fact, we work with all major manufacturers to deliver high-quality materials. 
With the help of an industry expert from Alliance Comfort Systems, your cooling system is easier to maintain.  We will be able to offer exceptional repairing services for refrigeration equipment and be a trusted supplier.  We offer appliances of the popular HVAC brands and retrofitting with service expertise. 
Support for Louisville  Chiller Repair
Professional service is an essential part of the management of cooling units. Louisville Chiller repair options allow the cooling systems to run longer. For this reason, temperature control is certainly a major investment decision for plants. Furthermore, chillers are sought after due to their special design, performance for reliable cooling, and efficiency.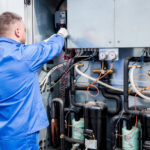 Effectiveness is crucial for industrial plants, as they can basically save operating costs.  A cooling system that is not efficient can cost a center extra resources, which is not ideal. Cooling systems are used to supply cooling air to plants.  The air systems are more complex and comprehensive and use many elements.  The chiller equipment's complex appearance makes sense to work with an industrial services expert. 
Service technicians can assist in the maintenance of refrigeration units with the help of specialized tools. Our service experts are trained in the factory for demanding projects like Louisville chiller repair.  Also, Alliance Comfort Systems employs service specialists to support the heating and cooling industry's largest brands. 
Contact us to find out more about commercial repair services for chillers. 
Address
7200 Distribution Dr, Louisville, KY 40258
Phone: (502) 384-8500 Email:
[email protected]
Opening Hours
| | |
| --- | --- |
| Monday | 9:00 a.m. – 5:00 p.m. |
| Tuesday | 9:00 a.m. – 5:00 p.m. |
| Wednesday | 9:00 a.m. – 5:00 p.m. |
| Thursday | 9:00 a.m. – 5:00 p.m. |
| Friday | 9:00 a.m. – 5:00 p.m. |
| Saturday | Closed |
| Sunday | Closed |