Selected points for this article
hide
Alliance Comfort Systems provides quality industrial HVAC services to its clients. These services are detailed with designs, installation, maintenance, and emergency services. We ensure that our employees provide the relevant information and promote an environment where all your inquiries on industrial HVAC services are answered. They are also licensed and highly trained to ensure smooth services worth every penny you spend at Alliance Comfort Systems.
Industrial HVAC Services and its use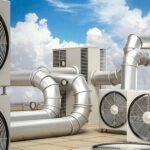 We offer various equipment for industrial HVAC systems that fit your needs. The equipment that makes up industrial HVAC systems includes chillers, VAV systems, boilers, de-humidification, VRF units, make-up air handlers, building automation systems, and balancing. Our technicians have vast experience in dealing with issues that arise from systems and HVAC maintenance. There is also customization of techniques to meet your system needs.
We maintain your industrial HVAC systems through regular inspection visits in which we inspect your system and fix problems found before they can intensify. These HVAC preventive maintenance measures prevent your system from breaking down and increase its lifespan. Our maintenance services help your heaters, and air conditioners run more effectively and efficiently to distribute air throughout your facility. Additionally, industrial HVAC maintenance includes cleaning services. These services prevent build-ups in the systems from particles like pollutants, bacteria, mold, and other allergens.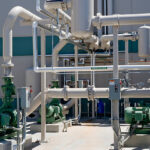 Industrial duct cleaning is one of these cleaning services, and cleaning out your ducts improves your facility's indoor air quality. Keeping your HVAC and duct systems clean keeps your facility's occupants healthy and safe, which is why we offer this service. Industrial HVAC Controls help you to change and adjust its settings to meet your facility's operational needs. These controls can be remote and wireless to enable you to change the settings from wherever.
You can control air conditioning, ventilation, and how much industrial heating you can use. This can help you save energy costs. We recommend having your HVAC system serviced twice a year. At Alliance Comfort Systems, we advise you to take proactive action when you notice any slight problem with your industrial equipment. Unusual noises and unwanted or weird odors could hint at serious issues that require urgent professional help.
Industrial  HVAC maintenance
Lack of regular maintenance is the number one contributor to industrial HVAC system failures; therefore, planning a maintenance program may be what you need to ensure you do not regret having any maintenance at all. Some of what is done during a maintenance checkup include checking and replacing air filters, inspecting ducts and pipes, checking air and heat systems, cleaning coils, and air conditioner chillers. Maintenance is vital because it helps prevent breakdowns, save costs by reducing bills, extend the HVAC system's lifespan, and validate your warranty.
Alliance Comfort Systems aims at offering quality and reliable services to our clients. For your HVAC needs, Alliance Comfort Systems is the answer for you.
Contact us with questions about our services for Industrial HVAC Services.
Address
7200 Distribution Dr, Louisville, KY 40258
Phone: (502) 384-8500 Email:
[email protected]
Opening Hours
| | |
| --- | --- |
| Monday | 9:00 a.m. – 5:00 p.m. |
| Tuesday | 9:00 a.m. – 5:00 p.m. |
| Wednesday | 9:00 a.m. – 5:00 p.m. |
| Thursday | 9:00 a.m. – 5:00 p.m. |
| Friday | 9:00 a.m. – 5:00 p.m. |
| Saturday | Closed |
| Sunday | Closed |