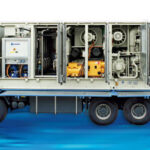 Alliance Comfort Systems is here to improve your working and living conditions. Louisville Mobile cooling, also known as portable air conditioners, are cooling units designed to offer you the right temperatures from wherever you are. It doesn't matter if you are in a tent camping site, in the office, in a temporary building, or in similar conditions; we are here to make your living or working area comfortable! Louisville Mobile cooling units are specially designed to suit outside installations with ducted supply and return air. The function of the cooling unit is based on two controlling fans and a cooling circuit.
The main parts of a Louisville mobile cooling system include:
2 Fans
A cooling circuit
The evaporator section consists of the evaporator and a radial fan
The Condenser section contains two condenser coils and a large axial fan
An opposite circuit provides the heating function.
Some of the basic features that our cooling system provides you are as follows.
The wheel kit is a special feature of the Louisville mobile cooling system because it makes the unit applicable onsite without using other tools. The wheel also makes it easier for the unit to be moved and transported to your desired position or place with minimal energy applied. Besides, the wheel also ensures fast deployment of the air conditioning system.
You get the heating and cooling effects from one system. Louisville Mobile cooling has these two in one feature that makes it useful to you in geographical areas with extreme differences in daytime and night temperatures, such as people staying at the north pole and those in deserts. The system contains extra electric heating elements to oversee the heating process.
Alliance Comfort systems offer you flexible installation. Our module cooling systems possess this feature that makes them easily adapt to local conditions. We can place the system outside your office, tent, or house and provide cooling up to temperatures +60degrees.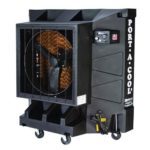 Even though you'll see so many models of HVAC cooling systems on the market, purchasing the wrong one could end up creating a big problem for you. With over 80 years of experience, Alliance Comfort systems give you the best HVAC Louisville mobile cooling system to ensure you have proper temperature control and air ventilation within your space. If you are a homeowner and looking forward to acquiring or replacing your Louisville mobile cooling system, there are considerations to put in mind. It would be best if you considered your cooling systems' existing ductwork and the ventilation. Also, you need to ensure that you ask our professional engineers questions and concerns about the mobile cooling units.
Several factors that will determine the cost at which you buy a Louisville mobile cooling system are the size, the location of installation, the year the unit was manufactured, the complexity of installation, and the insulation or heating process.
Despite all the aspects, such as features and the factors that determine your acquisition of a cooling unit, we are here to help. We will give you an easy and safe installation of your Louisville mobile cooling system, contact Alliance Comfort system, get your unit installed and save your money using our HVAC technicians.
Contact us with questions about our services for Louisville mobile cooling.
Address
7200 Distribution Dr, Louisville, KY 40258
Phone: (502) 384-8500 Email:
[email protected]
Opening Hours
| | |
| --- | --- |
| Monday | 9:00 a.m. – 5:00 p.m. |
| Tuesday | 9:00 a.m. – 5:00 p.m. |
| Wednesday | 9:00 a.m. – 5:00 p.m. |
| Thursday | 9:00 a.m. – 5:00 p.m. |
| Friday | 9:00 a.m. – 5:00 p.m. |
| Saturday | Closed |
| Sunday | Closed |