A boiler system is one of the strongest yet vulnerable heating equipment in your home that should not be neglected. You don't want to walk into the shower in the morning only to find cold water! Louisville Kentucky Boiler repair is not an easy task and should be carried out by professionals like Alliance Comfort Systems.
Any mistake made during the installation or repair procedure could lead to water damage or dangerous hazards. When neglected, boilers could cost you a lot of money in maintenance and repairs or even pose risks. For this reason, the Alliance Comfort system provides you with the best repair services. Despite how strong your boiler could be, there comes a time when a part of it spoils or breakdown, calling for repair. When you think about how long your boiler has served you, then it's time you called in Louisville Kentucky Boiler repair services.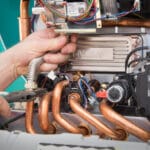 At Alliance Comfort Systems, we understand how frustrating it can be to have a broken boiler or one that fails to heat your water when needed to.  It doesn't matter if you are a landlord or a homeowner; we do not take long; instead, the moment we get your call and order, we get on our way to repair your boiler, there and then. Our highly trained technicians know boiler maintenance and Louisville Kentucky boiler repair, so you need not worry. We are a 24/7 operational team that responds to your call immediately.
Benefits of getting your Louisville Kentucky Boiler Repair:
Alliance Comfort systems give you free maintenance and support plan for your boiler.
You get exclusive access to our maintenance portal and helpful advice on how to keep your boiler safe and running.
You get an initial inspection process that will help you determine all parts of your boiler that you might have neglected.
We educate you on tips to keep your boiler running smoothly and for long after the finish.
You get extra repair services from us if your boiler stops working or fails the annual service. You are also eligible to book future repairs with us and book appointments.
Remember, it is more costly to purchase a new boiler than to call us and have it repaired.
Our major aim as Alliance Comfort system is to solve all the related problems your boiler could be experiencing and need to be repaired. Major incidents involved in Louisville Kentucky boiler repair include, but are not limited to, fixing a leaking boiler. A leaking boiler causes a health risk for your house occupants. We learn the causes of your boiler's leakage and get them fixed. The second cause for your repair maybe your boiler pressure. When suddenly the pressure changes, it is a sign that a part of your boiler's internal system needs to be corrected. Your boiler pressure can either be too high or too low. We aim at resolving this problem.
Alliance Comfort Systems provides Louisville Kentucky boiler repair services
Suppose you need help regarding your Louisville Kentucky boiler repair, book today. Alliance Comfort Systems is the team to call. We offer full service through our HVAC knowledge. Our fair prices provide you with upfront quotes, and we are trusted for paying attention to every detail.
Contact us with questions about our services for  Louisville Kentucky boiler repair.
Address
7200 Distribution Dr, Louisville, KY 40258
Phone: (502) 384-8500 Email: ACS.receptionist@AllianceComfortSys.com
Opening Hours
| | |
| --- | --- |
| Monday | 9:00 a.m. – 5:00 p.m. |
| Tuesday | 9:00 a.m. – 5:00 p.m. |
| Wednesday | 9:00 a.m. – 5:00 p.m. |
| Thursday | 9:00 a.m. – 5:00 p.m. |
| Friday | 9:00 a.m. – 5:00 p.m. |
| Saturday | Closed |
| Sunday | Closed |