Selected points for this article
hide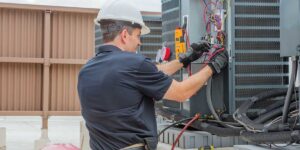 Servicing programs are useful for any equipment because they predict and prevent any failures that could occur and save you from emergency repairs. As a commercial building owner, the heating, ventilation, and air conditioning services play a vital role in keeping a safe and comfortable environment in your facility. Alliance Comfort Systems offers you all the tips and efficient services your commercial space may require. Your HVAC units need servicing for a prolonged lifespan and proper functioning. We take you through the importance of having commercial HVAC services. Commercial HVAC services are important because they help you prolong your HVAC facility systems or units' lives and reduce your operating costs such as frequency repairs from broken parts and energy savings.
If you implement commercial HVAC services, the chances are high that you will notice a difference in your planned and predicted maintenance schedules by the end of one year as they tend to decline gradually, saving you maintenance challenges.
Some of the benefits for commercial HVAC services are as follows:
Saves on costly repairs – Servicing your HVAC systems can majorly reduce your costs for unplanned and emergency repair sessions. Even though it is impossible to avoid any repair with the heating on the ventilating system, the amount spent on servicing reduces the amount you would have spent on non-serviced equipment.
Energy efficiency – Due to the continued rising cost of energy, commercial HVAC services have your building's energy consumption. Studies have shown that 39% of the energy used in America comes from a commercial building. High and proper performance of your HVAC system will save you high utility bills, and you can only achieve that through servicing the equipment.
Enhanced air quality – Through Commercial HVAC services, you get to clean all the dirty coils that filter the air in your facility. Other parts within your air conditioning system also get cleaned, preventing any airborne diseases that could arise from pathogens in the air, such as those that lead to respiratory infections.
Longer life service of the equipment – Like other equipment maintenance, HVAC systems require regular service to check and repair any problems that might occur within the units. They often require you to change fluids, replace belts and some parts, and filter exchanges, among other services that will prolong the machine's life.
Priority service – Scheduling to have your commercial HVAC equipment services gives you priority service. You will get a maintenance plan tailored to fit your system needs. Our technicians at Alliance Comfort systems will first carry out a check or inspection of your equipment to understand your building equipment before carrying out the services. This also builds a good relationship between your building occupants and us. If they notice any problem with the air conditioner or any other system, they reach out immediately.
Alliance Comfort systems Services
Contact Alliance Comfort systems today and book a service appointment from us. We promise to carry out a thorough inspection of your equipment and give it the utmost high-standard service they deserve to keep them operating for many years.
Contact us with questions about our services for Mobile Cooling.