Selected points for this article
hide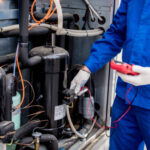 Alliance Comfort System is the right partner when looking for your Commercial chiller repair parts and services. A properly maintained and serviced cooler can last for approximately 15 to 20 years, as water coolers can stretch up to 25 years. Like any other equipment, coolers need to be repaired when you notice breakdown or slowness in their operation. Repairing worn-out parts or broken parts is cheaper than installing or buying a new cooler which costs thousands of dollars.  What differentiates us from other HVAC system providers is our understanding of every detail. We understand that different buildings have a special set of conditions necessary to ensure the comfort, health, and productivity of the workers and the business or home residents.
Alliance Comfort Systems has earned numerous customers' trust in several organizations and property owners with decades of experience in the HVAC industry. Our team of highly-trained engineers is ready and prepared to meet all your cooler repair needs. We can identify the problem with your cooler fast enough. We use a highly advanced diagnostic strategy to identify the problem quickly. Below, we take you through some signs to look out for that might call for a repair.
Three factors about Commercial chiller repair
A properly functioning cooler ought to circulate cool water, liquid solution, steam, or gas properly. When your cooler fails to do the above, it could cause heat buildup and lead to emergency breakdowns or cooler failure. Three factors that mostly determine if you need Commercial chiller repair are:
Higher Utility costs
Inefficiency in energy use
Shorter cooler lifespan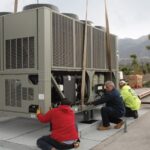 If you have noticed unreliable temperatures or your cooler is heating up to higher than usual temperatures, it is time to call us for a check and repair session. Besides, higher utility bills, or if your utility bills fluctuate from normal to higher rates, you might want to find out the problem with your cooler rental. Sometimes, the cooler may break down completely, which will call for a repair from Alliance Comfort Systems experts. The moment we receive your call and order, we rush up to offer our services, and within a short while, we leave your cooler working and running perfectly. We provide different parts repairs, ranging from cooler tube replacements to galvanic corrosion.
Your cooler may be prone to corrosion, especially if it's for industrial use. When your chiller is corroded, the sediments build up, clogging the tubes and causing inconsistent t flow of water or solution. Alliance Comfort Systems will get rid of dirt such as sediments and built-up corrosion from the pipes to prolong your cooler's lifespan as well as increase its efficiency.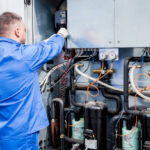 Refrigerant monitoring is also another reason to call for a Commercial chiller repair. Like most commercial equipment, cooler fluids need frequent replacement. If you don't use the right amount and type of fresh fluid for your cooler, it will decline its efficiency. This also implies that your operating costs are likely to increase, and your cooler's lifespan decreases drastically.
If you are looking for a qualified team of experts to repair your cooler, Alliance Comfort Systems will serve you and get the job perfectly done right the first time. Call us today and have your cooler fixed!
Contact us with questions about our services for Commercial Chiller Repair.
Address
7200 Distribution Dr, Louisville, KY 40258
Phone: (502) 384-8500 Email:
[email protected]
Opening Hours
| | |
| --- | --- |
| Monday | 9:00 a.m. – 5:00 p.m. |
| Tuesday | 9:00 a.m. – 5:00 p.m. |
| Wednesday | 9:00 a.m. – 5:00 p.m. |
| Thursday | 9:00 a.m. – 5:00 p.m. |
| Friday | 9:00 a.m. – 5:00 p.m. |
| Saturday | Closed |
| Sunday | Closed |