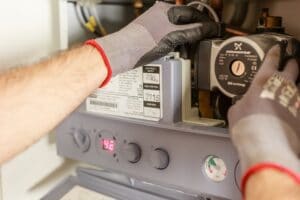 Kentucky Boiler repair is among the primary strategies to take proper care of your boiler. Although, you can save yourself the trouble of being in this position, requiring Kentucky boiler repair services, by arranging yearly maintenance and inspections from Alliance Comfort Systems. Our highly-trained and certified technicians can regularly take a professional and thorough check at your boiler and guarantee this each time; they provide you with a comprehensive report regarding your boiler's efficiency, what alterations require to be implemented, and where they need more focus.
However, most individuals are afraid that these regular inspections might be too expensive to afford, so they choose to have their boilers keep operating, silently wishing that there will be no issues in the future. They primarily do not consider that these boilers have warranties that are usually valid for a particular period; what you only need to do to keep the warrant valid is let your boiler be serviced at least once every year. You can always contact Alliance Comfort System; we have the best technicians who will tend to your Kentucky boiler repair needs with utmost professionalism and efficiency.
The following are among the signs that your boiler might be in dire need of repair; for instance, the radiator not effectively heating, water leakage, unusual noises, low water pressure, and pilot problems.
The following are among the signs that your Kentucky boiler repair needed
Water leakage. In case you notice any signs of water leakage, this might result in the boiler's vital parts malfunctioning, making it useless. If this water leakage increases, it could determine whether or not the boiler could be repaired because some extent of this leakage might be complicated to rectify and maybe too expensive to consider repairing. Therefore, it would be a good idea to contact Alliance Comfort Systems immediately when you spot the tiniest leaks to deal with the problem before it worsens and pushes you to purchase a new boiler, something that was not in your budget at all. Kentucky Boiler Repair helpful in this situation.
Unusual noises. This might include some rumbling, banging, whistling, or gurgling, which is not the usual attribute of any boiler. Actually, a boiler system is generally very quiet, so when you notice these strange voices, you should be alarmed and alert a highly-trained technician to come and give a professional look to your boiler to identify where the noise is originating from, the extent of the problem and how ideally they can rectify it. These unexpected sounds can frequently be due to air entering the boiler system or the accumulation of mineral build-ups in the system.
Below the minimum pressure. There is an expected set minimum pressure that boilers are designed to function with to the extent that anything less than that, there is a safety switch designed to automatically deactivates the boiler's operation. Air leaks and faults can particularly trigger this low-pressure issue in the expansion tank.
Transducer shutting off. When the transducer deactivates the boiler's system gas supply, this fault makes it difficult for the pilot lights to stay lit. This problem can only be handled effectively by professionals who comprehend everything about the boiler's repair and maintenance. Kentucky Boiler Repair best option to solve this problem.
Radiators not heating. The boiler's radiator might not effectively be heating as expected; thus, you could be pushed to perform some chemical flushing; otherwise, the whole system suffers. The air frequently triggers this issue in the boiler's system or accumulation in the boiler.
Tips for Kentucky Boiler Repair
According to these problems, it is evident that atmosphere and deposit accumulation do more danger than good in your boiler's system; they need to be regularly checked and cleaned to prevent more problems in the future.
Address
7200 Distribution Dr, Louisville, KY 40258
Phone: (502) 384-8500 Email: ACS.receptionist@AllianceComfortSys.com
Opening Hours
| | |
| --- | --- |
| Monday | 9:00 a.m. – 5:00 p.m. |
| Tuesday | 9:00 a.m. – 5:00 p.m. |
| Wednesday | 9:00 a.m. – 5:00 p.m. |
| Thursday | 9:00 a.m. – 5:00 p.m. |
| Friday | 9:00 a.m. – 5:00 p.m. |
| Saturday | Closed |
| Sunday | Closed |