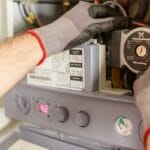 Louisville Kentucky Boiler service is a highly important service that should be conducted regularly for several fundamental reasons. At Alliance Comfort Systems, we are highly committed to providing you with high-quality Louisville Kentucky boiler services to our customers and clients. We do our best to help you grasp what is included in this service and the importance of performing it. We also provide the best engineers to deal with your boiler problems.
The following are among the benefits of a Louisville Kentucky boiler service:
It is cost-effective. It is argued that our financial stability affects most of the decisions in life, including investment. We give it our very best to prevent additional costs if they are not really essential. It is not only logical to agree that a boiler cannot stay new for an eternity; with time, it ages, meaning that its smooth operation might reduce. Suppose you do not regularly conduct Louisville Kentucky boiler service. In that case, you could end up spending more money on purchasing new parts because chances are you might know when to replace worn-out components before that finally renders your boiler inefficient. To decrease the cost you would otherwise incur when replacing a whole boiler or massive energy bill, it is critical to hire boiler services.
It is safer and more secure. In regards to Louisville Kentucky boiler services, nothing matters more than safety. It is not easy to live daily life constantly insecure that something terrible might happen due to a poorly functioning boiler; we need to protect ourselves and our loved ones. Most issues might emerge from a malfunctioning boiler; a carbon monoxide leak is extremely deadly and can lead to life-threatening health problems such as brain damage, nausea, severe headaches, dizziness, among others; you can easily confuse these symptoms for other serious illnesses. These incidents can be easily prevented by hiring proper Louisville  Louisville Kentuckyboiler service.
It enhances the warranty's validity. There is always a warranty that comes with the purchase of any boiler; therefore, based on where you bought it, the years of warranty may differ. However, for this warranty to maintain its validity, you need to get your Louisville Kentucky boiler serviced by experienced technicians regularly. This implies that during this time, your boiler's faults can be addressed for free; it is vital to get an engineer to tend to your boiler's faults. Furthermore, this service will help you cut costs because the warranty caters to all the expenses; thus, why dismiss the idea of receiving efficient boiler services at zero dollars?
Why we need Louisville Kentucky boiler service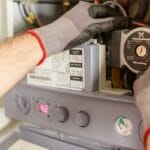 If you own residential facilities, you are legally expected to see that all their gas pieces of equipment receive regular professional maintenance and repairs; the boiler happens to be among these appliances. In such establishments, the tenants' well-being and safety are the landlord's topmost priority; hence, it is imperative to ensure the building's boilers operate smoothly with no malfunctions to prevent accidents. Regular professional maintenance must be prioritized anytime we feel insecure about our boiler's constant smooth operations. You might not see the fault by merely looking at the boiler. We, Alliance Comfort Systems, provide high-quality Louisville Kentucky boiler services and the best and most highly trained engineers to service your boiler.
Address
7200 Distribution Dr, Louisville, KY 40258
Phone: (502) 384-8500 Email:
[email protected]
Opening Hours
| | |
| --- | --- |
| Monday | 9:00 a.m. – 5:00 p.m. |
| Tuesday | 9:00 a.m. – 5:00 p.m. |
| Wednesday | 9:00 a.m. – 5:00 p.m. |
| Thursday | 9:00 a.m. – 5:00 p.m. |
| Friday | 9:00 a.m. – 5:00 p.m. |
| Saturday | Closed |
| Sunday | Closed |