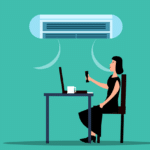 Industrial air conditioning rental: Air conditioners have now become a staple of modern homes, as the sweltering heat of summer is hard to bear without proper cooling due to rising temperatures. But it is hard to deny that air conditioners are expensive, like, a lot. Of course, depending on your need, that price is not that high, but not all people like to buy something that expensive, especially if they are living on rent. Nevertheless, people usually do something to solve the cooling problem, whether by choosing industrial air conditioning rental or buying it permanently.
If you are considering industrial air conditioning rental, you should understand the pros and cons of it.

Pros:
A Great Help In Budget:
Industrial air-Conditioning Rentals is the best choice for people who cannot afford the unit's initial purchase. With the help of a rental air conditioner, you can just pay some regular rent without wiping out your savings for the price of the appliance.
Best Choice For Rental Residence:
There is a higher chance that many of the people reading this might not be living in homes that are theirs. In short, many of them might be living on rent. When you live on rent, you might be familiar with how often you would have to move around. In that case, owning a rental AC is the better option.
Cons:
Doesn't Do Much Saving In The Long Run:
Industrial air conditioning rental does help in saving you from those expenses that occur with initial purchase and installation. However, that ends up costing you, as the regular rent piles up to the amount equal to the initial purchase price in the long run. Add in the repairs and installation in case of changing the air conditioner; it just becomes an extra bill that has no reason whatsoever to be on your list of expenses.
Might Not Get A Good Enough Deal:
That is not as much of a con as much as it is your luck. If you do not know what to look for, you can end up losing more money. Compared to that, buying a new unit from a respected brand gives you the freedom to contact the manufacturer in case of a problem. But again, that depends on the type of contractor from which you are renting the air conditioner.
What do You need To Do?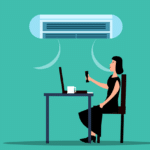 If you choose industrial air conditioning rental, first do the math for yourself. Add the monthly rent or contract fee with the maintenances, repair, filter replacement, emergency services, and other additional charges. Also, factor in the termination fee. This calculation may give you an idea of how much it costs you and if you can afford it.
At the end of the day, in industrial air conditioning rental, you only have to look for a reputable business and a good contract in addition to all these calculations. And although buying a new unit does increase the value of your property, it still costs you too much time in researching different brands, your cooling expenses, and the payment of annual maintenance, depreciation, and filter replacement costs; all of that just seems like the trouble you can do without.
Address
7200 Distribution Dr, Louisville, KY 40258
Phone: (502) 384-8500 Email:
[email protected]
Opening Hours
| | |
| --- | --- |
| Monday | 9:00 a.m. – 5:00 p.m. |
| Tuesday | 9:00 a.m. – 5:00 p.m. |
| Wednesday | 9:00 a.m. – 5:00 p.m. |
| Thursday | 9:00 a.m. – 5:00 p.m. |
| Friday | 9:00 a.m. – 5:00 p.m. |
| Saturday | Closed |
| Sunday | Closed |