Selected points for this article
hide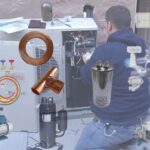 6 Important Commercial HVAC parts: Maintaining your heating and air conditioning systems is easier when you know how to identify and correct problems with the various components. Keep your home warm and cozy by making sure your heating and air-conditioning systems are always running at their best performance. The heat exchanger, blower motor, combustion chamber, and condenser are some of the most critical pieces of any commercial HVAC parts. The evaporator and thermostat are also essential components.
Your house will remain pleasant with minimal effort from you if your commercial HVAC parts are working correctly. A well-maintained heating and cooling system will keep your home at a comfortable temperature all year round.
6 Important Commercial HVAC Parts You Should Know
As a homeowner, it's crucial to know the basics of your heating and cooling system so that you can quickly identify and fix any problems that may emerge. Homeowners need to know the following six critical commercial HVAC parts:
FURNACE Commercial HVAC Parts
Furnace commercial HVAC parts: the brain box of your heating system is best located in the attic, basement, and closet. Burner and blower cabinets are found in the furnace. In some scenarios, you may see these stacked vertically or arranged horizontally.
When you know where your furnace is, it's much easier to quickly during any warning signals of trouble. If the furnace is making noises like banging, whirring, or groaning, it's time to call a specialist.
The Condenser Commercial HVAC Parts
Outside the house, there is a condensing unit. During the summer, the device uses refrigerant gas to condense and produce cool air. It is necessary to keep an eye on it throughout the year.
To avoid hampering by a buildup of debris surrounding the condensing unit due to the fall's defoliation of trees.
The Ventilator

Using your air vents, you can heat your house. Even though it's easy to overlook them, you should take the time to find all of your home's vents. It keeps your home safe against dusty furniture, draperies, carpets, and other obstructions.
Ensure that the air vents in your home are open at all times. It's a wrong signal if you notice dust or dirt coming out of the vent. Suppose you see this, contact a commercial HVAC expert immediately.
The Duct Commercial HVAC Parts
As simple as it is, it keeps your house warm or cool; you must have ducts in your home. By removing a vent cover, you can see inside the ducts, which aren't usually visible. 30% of heating and cooling is lost through duct leaks. A skilled duct sealer can help reduce the amount of heat that leaks out of your ducts.
The Thermostat 
Your thermostat is the most commonly used portion of your commercial HVAC system. for an efficient thermostat, it's necessary to know how it works. Setting your thermostat back 10-15 degrees for eight hours at a time will save you anywhere from 5%-15% on your energy bill.
A malfunctioning thermostat can potentially alert you to a more significant problem with your heating and cooling system. You should call a specialist if your home isn't meeting the required comfort level. The thermostat could be a problem or your heating and cooling system.
The Filter Commercial HVAC parts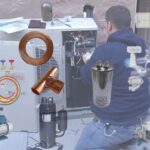 Keeping an eye on your commercial HVAC filter is an essential component of maintaining the system. For maximum efficiency, you should change your filter once a month. Keep a stock of replacement filters available for this frequent home maintenance activity.
Just a few seconds of your time can make a big difference to your home's air quality and energy efficiency.
You can rely on us for all of your commercial HVAC parts repair and maintenance needs, regardless of the type of system you have. We're here to serve you all day.
Address
7200 Distribution Dr, Louisville, KY 40258
Phone: (502) 384-8500 Email:
[email protected]
Opening Hours
| | |
| --- | --- |
| Monday | 9:00 a.m. – 5:00 p.m. |
| Tuesday | 9:00 a.m. – 5:00 p.m. |
| Wednesday | 9:00 a.m. – 5:00 p.m. |
| Thursday | 9:00 a.m. – 5:00 p.m. |
| Friday | 9:00 a.m. – 5:00 p.m. |
| Saturday | Closed |
| Sunday | Closed |