Selected points for this article
hide
Louisville Air Conditioning Rentals: Air conditioning units make up an entire subsystem in HVAC systems. Responsible for providing cooling, this technology is cherished, as it provides cooling for not only occupants but also the industrial processes themselves. But commercial and industrial ACs are expensive, so not everyone can afford to buy a brand new one. This is why the concept of Louisville air conditioning rentals has been gaining popularity over the years.
Here are the 6 facts you should know about Louisville air conditioning rentals.
How Air Conditioning Rental Works: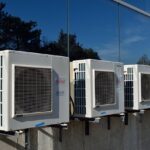 Louisville Air conditioning rentals work in two ways. The concept of the first one is rather straightforward. You get an air conditioning unit for a fixed rent. That rent could be paid at specified times, for instance on monthly, quarterly, or annual bases. It can also be paid upfront if you have gotten the unit for a short period of time.
The other way is to buy the AC through installments. You would need to pay a fixed amount on monthly bases until you pay off the entire price, at which point, the air conditioner becomes yours. In both these cases, you will be able to save money that would have gone in the initial purchase, saving you from the headache of scrambling to collect enough money to buy a new unit at once.
Louisville Air Conditioning Rentals Are Affordable:
It is a well-known fact that industrial and commercial air conditioning units are big. Consequently, they are expensive, and eye-watering so. It is not exactly easy to buy a new unit after your old one breaks down suddenly, leaving you with no choice. But Louisville air conditioning rentals allow you to avail its services and get an AC at reduced expenses.
Not Exactly Money Saving Solution For Long Term Use:
Even though Louisville air conditioning rentals are affordable, the fact will not hold true for long-term use. To explain, consider that you have got an AC on rent, and you have gotten it for, say 3 years. Now, nearing the end of 3 years, when you calculate the accumulated rent plus any maintenance and repairs that you have done yourself, you would realize one thing: the accumulated amount is big. In fact, it might have become equal to or even surpassed the original purchase price, which defeats the purpose. So yes, for short-term use, air conditioning rental does help you to save money, but the same is not true for long-term use.
Reduced Taxes:
It's a simple concept; you have to pay taxes for the property and possessions that you own. However, in this case, you do not own the air conditioning unit. In other words, you are using someone else's property, so it is not your asset. As such, the relevant taxes do not apply to you. To summarize, you are still getting an AC, but without the need to pay the high amount of taxes.
You Might Get Scammed:
The danger of scamming exists everywhere, even in air conditioning rentals. If you are not careful, you might end up paying for the repairs of an already damaged unit. To avoid that, thoroughly inspect the unit before you bring it to your property.
Moving Becomes Easier:
Unfortunately, not everyone is blessed to have their own property to conduct business on. Many property owners choose to leave behind the existing HVAC system, including the air conditioning units to save themselves from the hassle. But they are also able to get the compensation by raising the price of their property for that feature. But business owners operating on rental properties do not get that choice. Instead of buying one, the rental AC takes away their responsibility for the entire matter, and they can shift to a new location hassle-free.
Address
7200 Distribution Dr, Louisville, KY 40258
Phone: (502) 384-8500 Email:
[email protected]
Opening Hours
| | |
| --- | --- |
| Monday | 9:00 a.m. – 5:00 p.m. |
| Tuesday | 9:00 a.m. – 5:00 p.m. |
| Wednesday | 9:00 a.m. – 5:00 p.m. |
| Thursday | 9:00 a.m. – 5:00 p.m. |
| Friday | 9:00 a.m. – 5:00 p.m. |
| Saturday | Closed |
| Sunday | Closed |