Four Important Facts About Needlepoint Bipolar Ionization
About Needlepoint Bipolar Ionization: The connection that we have made between indoor air quality (IAQ) and health is not novel. As early as the 1850s, awareness of the critical nature of IAQ fueled initiatives to enhance conditions for consumers. In the 1960s, the rise of outdoor air pollutants diverted attention to exterior air quality. Still, the International Society of Indoor Air Quality and Climate (ISIAQ) research indicates that IAQ continues to affect asthma prevalence, respiratory illnesses, and lung cancer. The Environmental Protection Agency (EPA) says that Americans now spend about 90% of their time indoors, where air pollutant concentrations are two to five times greater than outdoors.
Among the techniques identified for improving IAQ are the following:
Ventilation systems. Unfortunately, this technique often incurs a considerable energy cost, making it challenging to maintain optimal IAQ and energy efficiency. Outdoor air moisture content can also lead to condensation and mold formation within ventilation systems.
Using indoor air purification systems such as bipolar ionization.
What is bipolar ionization?
The history of bipolar ionization dates back to the late nineteenth century, when British chemist, Sir William Crookes, discovered how to charge or ionize molecules housed within cathode-ray tubes. In the 1970s, US food manufacturers followed European examples by using bipolar ionization systems in production lines to control pathogens. Fast forward to 2004, researchers found that ionizing the SARS-associated coronavirus (SARS-CoV) rendered it dormant.
When bipolar ionization tubes are integrated into HVAC systems, they create positive and negative ions that are released when air moves through ducts. Ions cluster around viruses, bacteria, and mold, causing cells to oxidize and gasses to break down. The process eliminates smells and Volatile organic compounds (VOCs). Ions also bind to particulate matter (airborne dust and breath droplets), enlarging them just enough for filtration.
The early bipolar ionization systems used glass tubes, which increased the generators' fragility and expense. A dangerous amount of ozone (O3) was often released during the ionization process. Technological improvements resulted in needlepoint bipolar ionization (NBPI) by the mid-2000s, enhancing bipolar ionization's effects by minimizing ozone by-products.
Needlepoint Bipolar Ionization systems do not rely on a dielectric: a polarized insulator is used in the process. Instead, the regulated power output inhibits the formation of ozone or other harmful by-products. Additionally, the Needlepoint Bipolar Ionization technique breaks down VOCs into oxygen (O2), carbon dioxide (CO2), nitrogen (N2), and water (H2O). Ions flow through the air stream and exert microbicidal action on pathogens, suppressing virus infectivity.
Why should you install a Needlepoint Bipolar Ionization system?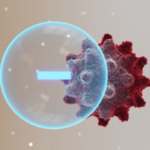 Maintaining a high level of IAQ in commercial facilities is critical for employees' health and well-being. The top three reasons to choose a Needlepoint Bipolar Ionization system for your facility are as follows:
To maintain a consistent level of active disinfection across your facility. COVID-19's aerosolized transmission and prolonged life in the air need an aggressive air-cleaning approach. Coronaviruses are enveloped viruses, which makes them easier to isolate and kill than other viruses.
To use a proven technology that has been successfully used to control IAQ at some prominent institutions, including the Johns Hopkins hospital, the White House, and Googleplex (the corporate headquarter of Google.) Additionally, Air Force One is equipped with a Needlepoint Bipolar Ionization system.
To minimize the demand for external ventilation, thus reducing the risk of microbial growth in the facility.
Needlepoint Bipolar Ionization has been proven to improve IAQ.
Under rigorous testing in controlled laboratory settings, Needlepoint Bipolar Ionization reduced norovirus by 93.5% within 30 minutes, coronavirus by 90% within 60 minutes, and legionella by 99.7% within 30 minutes.
Under rigorous testing in real-world environment models, Needlepoint Bipolar Ionization reduced mycobacterium tuberculosis (M. TB) by 69% in 60 minutes, methicillin-resistant staphylococcus aureus (MRSA), and staphylococcus by 96.2% in 30 minutes, and escherichia coli (E. coli) by 99.6% in 15 minutes.
Field experiments also yielded satisfactory results. In six test rooms at a large medical facility, Needlepoint Bipolar Ionization reduced the gram-negative bacteria to zero, while isolated pathogens decreased by 64- to 99%. And within a month, an air traffic control system command center saw particle reductions of 87.2% at 0.3 microns, 95.4% at 0.5 microns, and 95.8% at 1 micron.
Needlepoint Bipolar Ionization installation is easy.
Needlepoint Bipolar Ionization systems integrate seamlessly with existing or new HVAC systems. Needlepoint Bipolar Ionizationis attached to the evaporator coil's entering side. There is no requirement for higher static pressure, more fans, larger filters, or adjustments to the air handling unit (AHU) or air ducts. Needlepoint Bipolar Ionization systems usually require very little maintenance or replacement parts and are built to last the life of the AHU.
Address
7200 Distribution Dr, Louisville, KY 40258
Phone: (502) 384-8500 Email:
[email protected]
Opening Hours
| | |
| --- | --- |
| Monday | 9:00 a.m. – 5:00 p.m. |
| Tuesday | 9:00 a.m. – 5:00 p.m. |
| Wednesday | 9:00 a.m. – 5:00 p.m. |
| Thursday | 9:00 a.m. – 5:00 p.m. |
| Friday | 9:00 a.m. – 5:00 p.m. |
| Saturday | Closed |
| Sunday | Closed |