Today's article is about wrapping up the top five must-have tools in the HVAC industry. Now there are all sorts of HVAC equipment you need for this kind of work, but I'm just going to list the top five you can not go without, I believe.
So these tools are in no particular order. I am just going to document the HVAC equipment as I go
1: Multimeter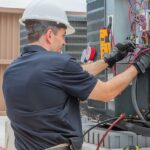 The foremost HVAC equipment is a multimeter. You want to ensure you get a fine one. The one for reference is the sc460. Now, this pretty much does everything you ought to do. So reviewing your microfarads continuity voltage on ac or dc, you can also check line to line to confirm your phasing is proper. You can do temperature if you want to; I don't utilize it for that, but this is a solid meter. It's small, compact, and fits in the bag adequately.
Does it cover everything?
Now the primary thing you want to consider when you buy a meter is whether it will cover all you require it to do right. It leans on what you do and can vary from someone else. And then also your budget matters when getting HVAC equipment.
2: Tool bag
Number two on the checklist for your HVAC equipment is a tool bag. There are lots of toolbags out there. You can go with the cheaper renditions if you want to get begun and deduce your style, what you like, and what you don't like.
A suggestion you can regard
But once you figure out what you like, I suggest opting for the veto pro pack. It is not super costly, depending on the model, but they are remarkable. They are going to endure year after year after year after year.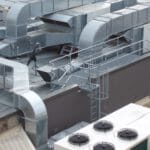 3: Refrigeration gauges
The third HVAC equipment on the list is a set of refrigeration gauges. The one I use is the fieldpiece 380v; it is a digital set of gauges. I upgraded the pipe clamps to the wireless style instead of using the ones that plug in just a seamless operation.
There is always an option available that is healthy on your wallet.
I favor these clamps, you know, you do not have to go out and expend a lot of money if you are unwilling and do not have the budget. The primary thing is getting good quality tools that help you do your job.
4: Smartphone
That leads us to number four on the list, your smartphone. These things are a must to acquire. In this day and era, everything is digital; it is an online world.
5: Invest in your mind
All right, so the fifth and final item on this list, last but not least, is your mind. Now I can not stress enough how it's significant for you guys to teach yourself new things every day and push yourself constantly. You want to invest in yourself just like we talked about investing in tools.
There are multiple resources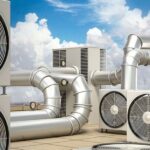 There are all types of free resources out there. There is tons of information, so all you have to do is put in the work, search for it, look for it, go on a ride with somebody, whatever it is.
If you worked on a piece of HVAC equipment yesterday and you know you didn't quite understand it, write down the model number.
Do some research
When you get home, do a little research, and learn more about that piece of HVAC equipment that's investing into your mind.
That is a skill set that's going to last you a lifetime. So I highly suggest you guys invest in yourselves.
Address
7200 Distribution Dr, Louisville, KY 40258
Phone: (502) 384-8500 Email:
[email protected]
Opening Hours
| | |
| --- | --- |
| Monday | 9:00 a.m. – 5:00 p.m. |
| Tuesday | 9:00 a.m. – 5:00 p.m. |
| Wednesday | 9:00 a.m. – 5:00 p.m. |
| Thursday | 9:00 a.m. – 5:00 p.m. |
| Friday | 9:00 a.m. – 5:00 p.m. |
| Saturday | Closed |
| Sunday | Closed |