Nothing is worse for businesses than having to deal with a faulty HVAC system. Not only will it make working in your office or store unbearable, but it can also lead to lost customers and revenue. That's why it's so essential to partner with a reliable commercial HVAC service that can keep your system up and running.
However, with so many companies to choose from, how can you be assured you're choosing the right one? In this post, we'll discover some of the factors you should keep in mind when choosing a commercial HVAC service for your business. From experience and licensing to reviews and more, read on to learn what you should check for in a quality commercial HVAC company.
So, before delving into the specifics of what makes a good commercial HVAC service, it's important to understand how HVAC systems work and the types of businesses that need commercial HVAC service.
Overview of HVAC systems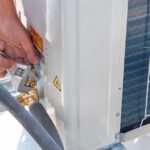 HVAC systems are basically heating, ventilation, and air conditioning systems that are used to provide comfort in homes and buildings. The main purpose of an HVAC system is to regulate indoor temperature and humidity by exchanging fresh air from outside. In commercial buildings, HVAC systems can also help to control the spread of airborne contaminants like dust, pollen, mold, and bacteria.
In addition, HVAC systems are used to maintain a comfortable temperature and humidity level in the building, which can help to improve worker productivity.
What types of businesses need commercial HVAC services?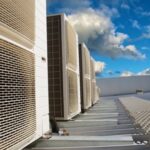 There are several types of businesses that need commercial HVAC services, including:
Office buildings
Retail stores
Restaurants and bars
Hotels, motels, and resorts.
So, if you own or manage a commercial building, it's important that your HVAC system is in good working condition. If the system breaks down, you may lose customers and revenue while repairs are made. In addition, if your HVAC system is not running efficiently, it may cost more money than necessary to operate each year.
5 factors to keep in part when choosing a commercial HVAC service.
First and foremost, when choosing a commercial HVAC service, it is important to consider the size of your business. If you have a large business, you will want to make sure that the company you choose has experience in handling projects of your size.
The type of business you have will also play a role in what kind of commercial HVAC service you need. Different businesses have different heating and cooling needs.
Location is another crucial factor to consider when choosing a commercial HVAC service provider. If your business is located in a climate that experiences extreme weather conditions, you will need a more robust HVAC system.
The frequency of use is another consideration when selecting a commercial HVAC service provider. If your business uses its HVAC system on a daily basis, you will need a different level of service than if it is only used occasionally.
Finally, it is paramount to consider your budget when choosing a commercial HVAC service provider. There are many providers out there with different price points, so it is essential to find one that fits within your budget constraints.
Conclusion
Now that you know some of the factors to keep in mind when deciding on commercial HVAC services for your business, you can be sure to make the best decision for your needs. Keep these tips in mind and take the time to find the right company that can provide you with quality services at a fair price. With a little bit of research, you can find the perfect HVAC Company to keep your business comfortable all year round.
Address
7200 Distribution Dr, Louisville, KY 40258
Phone: (502) 384-8500 Email: ACS.receptionist@AllianceComfortSys.com
Opening Hours
| | |
| --- | --- |
| Monday | 9:00 a.m. – 5:00 p.m. |
| Tuesday | 9:00 a.m. – 5:00 p.m. |
| Wednesday | 9:00 a.m. – 5:00 p.m. |
| Thursday | 9:00 a.m. – 5:00 p.m. |
| Friday | 9:00 a.m. – 5:00 p.m. |
| Saturday | Closed |
| Sunday | Closed |