Hospital-grade Sanitizing and Disinfecting for Commercial Buildings
Commercial buildings can achieve hospital-grade clean standards with SanitizeIT, a technologically advanced disinfectant. As a cleaning solution that is EPA registered, SanitizeIT delivers optimal results without harming the environment, people, or your furnishings. Commercial facilities are prone to pathogens such as viruses, bacteria, mildew, and mold. Additionally, the growth of certain germs can cause foul odors and allergens to circulate within a building. SanitizeIT is a safe and effective treatment that tackles a common challenge in large facilities where people frequent, germ control.
Eliminate Viruses, Bacteria, and Allergens in Your Commercial Building
Commercial Spray Solutions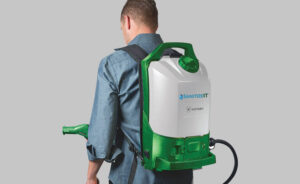 Anywhere people gather in mass is vulnerable to the spread of illness. In fact, germs travel far and fast when individuals become sick. Simply coughing or sneezing can send harmful, disease-causing virus droplets into the air. Furthermore, germs can settle on surfaces where others can become infected. However, the issue for many establishments is finding a product that does not harm the environment but is also effective. SanitizeIT, an NSF-certified solution, is safe to use in many different commercial buildings, including daycare facilities, fitness centers, schools, offices, and religious centers. 
Commercial cleaning is an aspect of facility management that must happen regularly to achieve the best results. Common areas are often neglected due to busy schedules, inadequate cleaning methods, and ineffective materials. Additionally, some cleaning chemicals designed for commercial applications are too harsh, leading to damage. SanitizeIT, however, is non-corrosive and non-caustic. 
There are common microorganisms that circulate throughout the environment, causing illness among people—some viruses spread during peak times of the year, such as the flu. Depending on the type of activities in certain establishments, they may be prone to other bacteria such as listeria or salmonella. In either case, exposure to viruses and bacteria in dense areas where people gather can certainly lead to major outbreaks. 
Staph, Hepatitis, Legionella, and E. coli are pathogens that regularly infect people from all walks of life. All germs can cause a deadly illness for certain individuals, especially those whose immune systems are compromised. Businesses must combat the spread of illness to prevent widespread outbreaks as well as serious financial losses. 
SanitizeIT has been proven to be effective in killing even more germs. Click the link below to view our tested results. 
When dealing with cleaning products, facility managers may be concerned about possible damage to sensitive equipment such as electronics. The sanitizing solution that we use is safe to apply in areas where electronic devices are placed. Because multiple individuals share much of the electronic equipment used in a facility, SanitizeIT is an ideal solution for removing germs from those same surfaces. Furthermore, the formula is safe to use on contact surfaces where food may be placed, such as restaurants, kitchens, lunch tables, counters, and break room areas. 
Heating and Cooling Sanitizer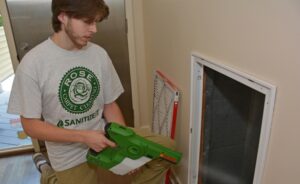 Another problem that commercial facilities face is dealing with allergens. Some building occupants are sensitive to the effects of mold and mildew. As mold and mildew grow, they can circulate throughout a building, causing not only irritation but foul odors. Foul odors may have sources not only in mold and mildew but smoke and spoiled materials.
Mildew and mold can be managed by SanitizeIT, which controls its growth. Moreover, the solution can kill off fungi, bacteria, and other microorganisms that have health implications for people. The HVAC is a powerful tool in controlling the spread of microorganisms that can make individuals sick. SanitizeIT is safe to use on HVAC units and their parts. The solution is so gentle that it will not cause damage to critical HVAC components. 
SanitizeIT Stat-A Multi-functional Solution
Mildewstat
Deodorizer
Bacteriostat
Fungistat
SanitizeIT Applied to HVAC Systems:
Heater
Air Exchanger
Rooftop/Packaged Terminal A/C Units
Fan coils 
Air distribution parts include mixing and transfer boxes, transitions & turning vanes, and corresponding elements. 
A Message from the CDC:
Community members can practice routine cleaning of frequently touched surfaces, for example, tables, doorknobs, light switches, handles, desks, toilets, faucets, sinks) with household cleaners and EPA-registered disinfectants that are appropriate for the surface, following label instructions. Labels contain instructions for safe and effective use of the cleaning product, including precautions you should take when applying the product, such as wearing gloves and making sure you have good ventilation during the product's use. Source: the CDC website

TO GET A HOSPITAL-GRADE CLEAN-SANITIZEIT.®
Service Call Brief.
In just under 30-minutes, you can achieve a Clinically Clean facility. We can treat an area of around 2,000 square feet in about a half-hour. The process is fast, simple, and doesn't involve extensive preparations. The bottom line is that your commercial building will be void of viruses, bad odors, bacteria, and more.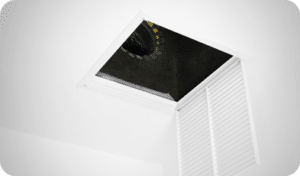 Facility Inspection
Our service technician will first inspect your facility upon arrival to identify the areas that need to be treated. We will ensure that the area is prepped for service. Similarly, if there are specific items that require attention, let your certified service technician know.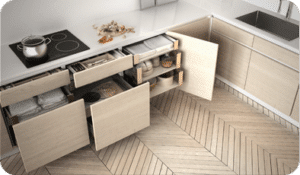 Quick Prep
Some clients may want to do a major cleaning before we arrive, but that is not necessary. Feel free to organize items that you would like us to clean so that we do not miss anything. We'll handle opening up spaces to make sure that our electrostatic backpack formula delivers great coverage.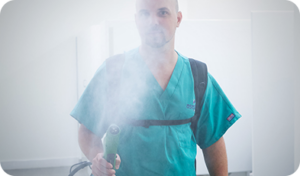 SanitizeIT Spray
Before getting started, your certified service technician will provide a cost estimate and estimated time for completion. If you are comfortable with the proposal, we will begin the service. Once the service is complete, you can wait about 10 minutes for the mist to dry.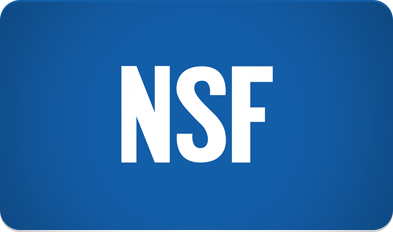 Safe on Food Surfaces
Keep in mind that our solution is NSF-certified and, therefore, safe to use around food, food contact surfaces, and plants.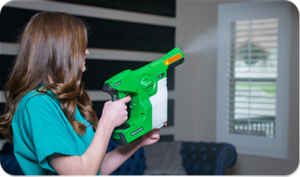 Gentle Enough for Fabrics
SanitizeIT can be used on various hard surfaces safely, but it is also safe to use on fabrics such as carpets, upholstered finishes, and drapery. During treatment, our service technicians spray from a distance of about 10-12 ft. A light mist is applied, so it dries quickly and does not need to be rinsed or wiped away after treatment.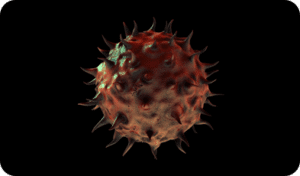 Germ-Killing Power
Our disinfectant is effective, killing germs quickly. About 10 minutes following a spray treatment, the solution dries up to leave the areas free from viruses, bacteria, mold, mildew, odors, and allergens. Most importantly, the formula is fragrance-free. 
YOUR QUESTIONS ANSWERED:
1 Is the disinfectant dangerous?
The formula is an EPA clinical-grade disinfectant. Moreover, it is rated a category 4, which means that its toxicity is low, according to the EPA. By comparison, bleach has a high toxicity rating of 1. SanitizeIT is neither reactive nor corrosive. 
2 Is SanitizeIT safe to use around food?
Our formula is NSF-certified for food surfaces— the product requires no rinsing, which indicates that once a surface is treated, food can be prepared on it. 
3 Is this disinfectant safe to use around kids and animals?
While we recommend that children and pets not be present during spray service, the recommendation is only to ensure the most effective solution. The solution, however, non-irritating and also hypoallergenic.
4 How long will treatment take?
The length of time it takes to perform a treatment varies due to property size, item density, and indications for service. Treating an area to remove viruses may take longer than treating an area to remove a foul smell, for example.
5 Is this product safe for the environment?
SanitizeIT can be reduced down into a basic salt. The solution does not contain any ozone harming VOCs. Additionally, it does not produce chlorinated byproducts or carcinogenic compounds like trihalomethanes (THM) or haloacetic acids (HAAS).
6 Does this product harm fabric and electronic devices?
SanitizeIT is safe to use on ColorFast Fabric. The solution is safe for carpeting, material, and hard surfaces such as stone, stainless steel, and plastic. Overall, SanitizeIT is non-corrosive. 
7 Will I notice a scent?
Some clients report a thin "pool smell" that quickly dissipates after service.