Chiller Repair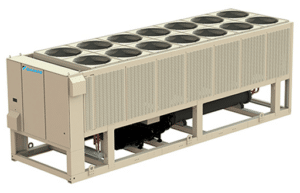 Commercial and industrial chillers require repair to maintain operations. The cooling systems are important because they provide air that is the right temperature for spaces, materials and equipment. For most facilities, chillers are a hefty investment that is expected to deliver years of performance. Chiller repair is one measure that can be taken to preserve the life-cycle of a cooling system while ideally keeping costs low. Facilities must get the absolute most from large commercial chillers. Alliance Comfort Systems can help to keep units running even in the event of unexpected repairs.
Chillers deliver reliable performance but because they use a heavy load of energy, stress is sometimes placed on the parts. Damage to parts as the result of wear may range from minor to major. Chiller repair, however, is necessary for even small parts as they are critical to the outcome of the system. If your chiller is showing signs of wear, contact Alliance Comfort Systems where our technicians can help.
Chiller Repair Capabilities
Chiller repair through Alliance Comfort Systems means that your units will be inspected and monitored for potential issues. In the event of a repair, we do have technicians on-call 24-hours a day and 7-days a week to answer service calls. Mechanisms within a chiller may give some clue to the need for repair but there are components that are hidden deep within the massive systems.
Chillers contain high volts of electricity, chemicals and pressure so repairing them can be dangerous without the proper tools, training, and experience. Service technicians at Alliance Comfort Systems have experience working with commercial and industrial chillers and they are factory-trained.
In addition to repair, we are also able to supply parts. Chiller parts may be needed for repairs or maintenance. Working through Alliance Comfort Systems will reduce wait-times on service. Contact us to ask about our service options for chillers and more.