Selected points for this article
hide
Alliance Comfort Systems keeps your boiler running throughout. Like any other equipment, regular servicing of your boiler will increase its life span and enhance its safety. It would be best if you serviced your boiler at least once a year to avoid unnecessary repairs.  Boiler service gives our engineers a chance to inspect and identify any operational defaults on your boiler. Important things to be checked include gas leak issues, pressure, and dents that could be hazardous if not immediately corrected. It is also a part of protecting and keeping your family safe. Spend less on service rather than spending more on boiler repair!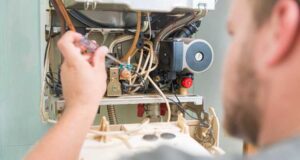 Determining how much it will cost you to service your boiler is important. Alliance Comfort Systems offers you both the annual boiler service package and a one-off service package to choose from. A one-off-service package costs about $55-$100, while a typical annual package costs between $200 to $300. Your schedule could also determine the kind of package you need for servicing your boiler, either way, and we will get it serviced. If you have an insurance cover for boiler breakdowns, it would be best to know that they don't give you similar benefits you get from Alliance Comfort Systems.
Perfect boiler service
Before starting the job, we ensure to know exactly what work we will be doing by inspecting the boiler first.  You also need to ensure that it's worth paying for our services and prevent your boiler from breaking down. We take you through the tale-tell signs that we look out for before performing the procedure of a boiler service.
Our engineers check the boiler, both externally and internally, to identify any changes, dents, or corrosiveness on the surfaces.
We then check your boilers' operating pressure. Some of the questions we try to find answers to at this stage are whether the pressure is normal or changed? What is the heat input of your boiler?
After checking the pressure, we also ask and check if there are any broken safety devices on the equipment and know which parts need replacement?
We check out for broken parts, check seals to ensure effective sealing.
We then get the boiler case removed to identify the main components of your boiler, such as the burner, heat exchanger, main injector, sensor, among others.
We also check if the boiler parts are clean and clean them, if necessary, during the service.
In the end, we give you a service record or report that will show everything that our engineers have done to ensure your boiler heats the water and runs smoothly.
Useful tips for boiler
You will also need some boiler tips that will leave you satisfied after our engineers finish the job. These tips include asking questions, especially on the inclusive benefits of Boil service. Secondly, watch and journey with our engineers through the servicing process. Normally, a good boiler service takes 30 minutes, and if the engineers hurry the job, you are free to raise your concerns. In the end, ensure you get a copy of the above checklist for servicing your boiler and ensure it is accurately filled.
Get your boiler serviced today by calling Alliance Comfort Systems, a gas safe registered company that provides you an all-around service.
Contact us with questions about our services for Boiler service.